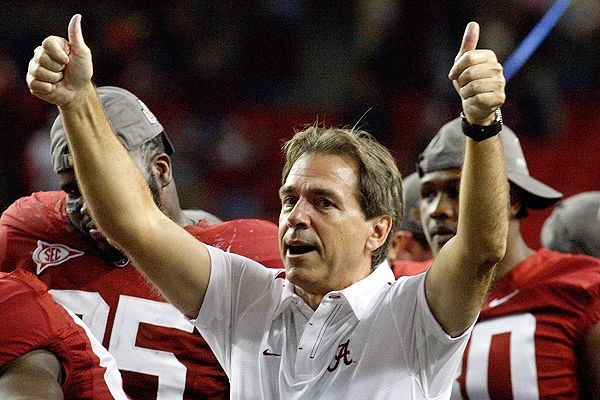 Chris Graythen/Getty Images
"If you guys think the statue looks like me, give it two thumbs up."
Reason No. 1 to coach football at the University at Alabama: If you win a national title you get a statue of yourself erected outside Bryant-Denny Stadium. Or so we thought. While Wallace Wade, Frank Thomas, Paul W. "Bear" Bryant and Gene Stallings have all been commemorated for their winning ways on Alabama's campus, the construction of Nick Saban's bronze idol has hit a snag. Originally thought to be ready for Alabama's season opener versus San Jose state on Sept. 4, Saban's statue may not be unveiled until mid-season do to facial complications.
Thad Turnipseed, the Crimson Tide's director of athletic facilities said the first two statue submissions were rejected partly because the hair and face weren't right. Saban, his wife Terry and Alabama athletic director Mal Moore have final say on the sculpture but have yet to see a version they like.
Alabama's reasoning for holding off on Saban's statue seems a bit bizarre, don't ya think? Sure, his hair is worth getting right, but Bama is now on their third statue proposal. Here are some alternate reasons on why the bronzing of Saban has been postponed:
Not Bronze Enough: From LSU to the Phins to Alabama, one thing has stayed consistent: Saban's tan. Alabama is claiming the hair and face aren't quite right, but maybe the shade of bronze isn't quite dark of enough for Saban's liking?
The Michael Douglas Effect: Version No. 1 looked too much like Michael Douglas, who did not want his face plastered outside Bryant-Denny Stadium.
The Bronze Mound of Rebound: The state of Alabama has been collecting bronze for the past decade to build a giant statue of Charles Barkley to help launch his campaign for Governor of Alabama and the University of Alabama is on a waiting list for available materials.
No Straw Hat, No Dice: Mr. and Mrs. Saban would like to see the statue portraying Nick wearing his straw hat and the athletic director thinks it looks ridiculous, leaving the two sides in a stalemate.