Heading into training camp, we asked all of our NFL Analysts and Insiders to rank all 32 teams. Today marks the completion of our Ultimate NFL rankings numbers 1-8. Who dat gonna beat dem Saints? Last year, no one could stop the Super Bowl champs. This year, our experts predict 4 teams are better than New Orleans. Do you agree? We'd love to get your thoughts in the comment box below.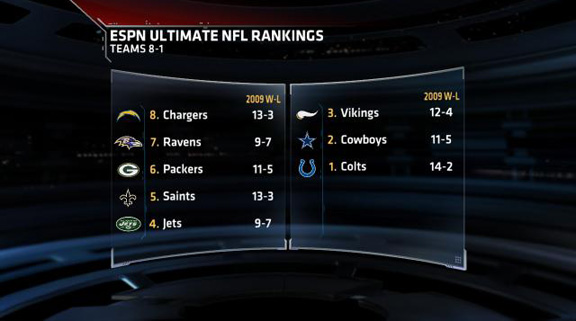 The completion of our NFL Ultimate Rankings:
At number 8 it's the San Diego Chargers. They finished 13-3 a season ago but start this season without LaDainian Tomlinson for the first time since 2000. Number 7 is the Baltimore Ravens. They added Anquan Boldin to help spark the passing offense and will try to improve on their 9-7 mark from a season ago. At number 6 its the Green Bay Packers. Aaron Rodgers enters his 3rd season as the starter in Green Bay and has developed into one of the league's best at the position - the Pack went 11-5 last season.
The defending Super Bowl champs open the season at number 5 as the Saints return most of their roster that went 13-3 and won the world title over the Colts. The Jets open the season at number 4, Gang-Green added Santonio Holmes and Antonio Cromartie to a roster that went 9-7 and lost in the AFC Championship last season. The Vikings are at number 3. Minnesota was an overtime away from the Super Bowl in 2009 and now await word on the future of Brett Favre and their QB position. At number 2, its the Dallas Cowboys. Dallas drafted Dez Bryant to help an already powerful passing offense and they look to improve on an 11-5 season. The top spot belongs to Peyton Manning and the Colts. Indy was 14-2 last season and of course lost in the Super bowl to the Saints.
ESPN's Ultimate NFL Rankings: 9-16
ESPN's Ultimate NFL Rankings: 17-24