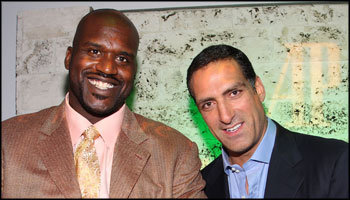 Getty Images
Seikaly on the turntables and Shaq busting rhymes, talk about a winning combination.
If Miami Thrice is still in search of a DJ for its inevitable South Beach party, the trio should give Rony Seikaly a call. The former Heat center turned DJ has signed on with Subliminal Records and will release his debut track, titled "Come With Me," on July 28th. Seikaly earned the nickname "Spin Doctor" during his NBA days for his nasty low-post moves, but who'd have guessed it would foreshadow his future career?
Since retiring from the NBA in 2000, Seikaly, who defines his music as "happy underground," has been tearing it up on the ones and twos from the clubs in Miami to the bars in Ibiza. What does Rony's music sound like? If you can't make it to Beirut on July 17th, check out this clip from L.A.'s Playhouse. How many 6-foot-11 guys do you know who can shake their hips like that?
We haven't gotten the chance to attend any of his live performances, but based on his Facebook fans responses, Seikaly may be adding a Most Improved DJ Award along side his 1990 NBA Most Improved Player Award. Subliminal Records founder and DJ Eric Morillo has seconded the notion, saying, "[Seikaly] is a raw talent with a great musical ear ... That is why I am excited to put out his first single on Subliminal and unleash him on the world." For those of you not familiar with Morillo's previous work, he was responsible for the 1993 hit "I Like To Move It" as part of the house music/reggae duo known as Reel 2 Real.
Not sold yet on whether or not you should purchase Seikaly's first single at the end of the month? Let your friends decide at your next house party. Go to ronyseikaly.com, hook up your computer to a set of speakers, and let the music dubbed "Rony Style" do the talking.