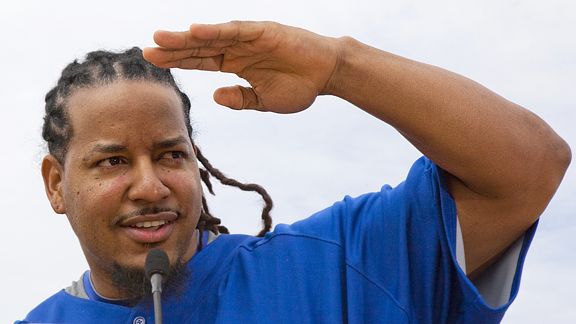 AP Photo/Morry Gash
Manny Ramirez watches his mystery bidder drive off in his car.
After 10 days of bidding, Manny Ramirez's 1994 Porsche 911 Turbo 964 was auctioned off for $50,100. The car was appraised at more than $58,000 and considering Manny almost sold his neighbor's grill for $99,999,999 in 2007, this may be the biggest steal of 2010. All proceeds from the sale will be will be divided between ThinkCure!, the Dodgers' official charity, and Maryvale, a residential placement home for girls in suburban Rosemead.
The team has yet to identify the winner of the auction, but we have a few guesses on who this mystery man/woman may be:
Jerry Seinfeld - What is it about Jerry and Porsches? Seinfeld is rumored to have over 40 Porches in his collection, but has yet to snag one previously owned by a member of MLB's 500 home run club. Manny's automobile would truly make Seinfeld the Master of the Porsche Domain.
Christie Brinkley - It's been 27 years since Sports Illustrated's former swimsuit covergirl drove past Clark Griswold in her red Ferrari. With only 34,569 miles on it, Manny's sports car would be a logical and cost-efficient replacement.
San Francisco Giants - It's a pretty simple formula for the Giants: Purchase the car from your division rival and then charge each fan $5 at the next Giants-Dodgers game to take a swing at it with a sledgehammer. It's the easiest promotion they'll have all season.
Lastings Milledge & Andrew McCutchen - If Ramirez has driven it this long it's obviously dreadlock tested and Manny approved. It's the perfect car for Milledge and McCutchen to drive to the ballpark in each day.
Robert J. Power - After purchasing Stephen Strasburg's 2010 Bowman Chrome Prospects Superfractor for $16,403, Power resold the card for $25,000. Maybe Power finally realized cars are cooler than cards and put his profit towards the Manny Mobile.