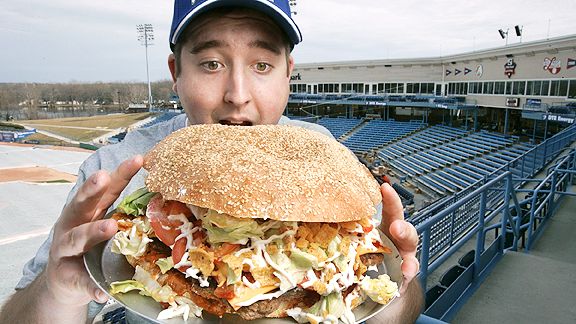 AP Photo/The Grand Rapids Press/Rex Larsen
If you feel a crunch in your mouth, it may not be the pickles.
When you head out to catch a game in person this summer, do you ever stop to ask yourself "What's Lurking in Your Stadium Food?" If that sounds a bit ominous, it's probably meant to be - ESPN's "Outside the Lines" has recently reviewed health department inspection reports from all 107 stadiums used by the MLB, NBA, NHL, and NFL. What did they find? Well, despite vast differences in how food is prepared and served, let's put it this way - it's not always appetizing.
We'll do our best to spare you some of the particular findings (mold!), disgusting details (cockroaches!!), and other specifics you'd probably rather not know about (mice droppings!!!). But, there are some notable takeaways from the investigation that are worth highlighting. For example, 10 of the 12 stadiums in California had among the lowest percentages of vendors in violation. Nicely done, local California county health agencies!
On the other [unwashed] hand, all of the stadiums in Florida scored among the worst when it came to violations cited by inspectors. In a league nearly of its own, Tropicana Field, home to the Tampa Bay Rays, was found to have 100% of its vendors in violation. 100%! This unimpressive accomplishment was matched only by the Verizon Center in Washington, D.C., home to the Wizards, Capitals, and countless critical violations (in no particular order).
If you're interested in knowing how the hearty fare at your home stadium fared, feel free to check out the interactive map here or the complete list of findings sorted by state here.
And if you just happen to be in charge of food preparation at a major sports stadium, here's one piece of advice for next year: try your best to not schedule the health inspections on game days, you know, when food is actually being prepared. That strategy helped three of the four stadiums in Chicago show no violations. That's what we like to call giving 0%.