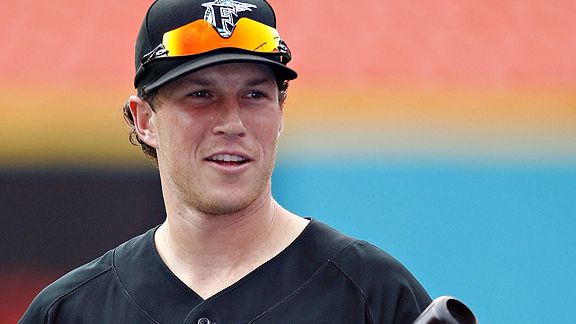 Joel Auerbach/US Presswire
It's little wonder Chris Coghlan injured himself with his reckless inverted sunglasses usage.
Marlins' left fielder and 2009 NL Rookie of the Year Chris Coghlan proved he still has a lot to learn after tearing the meniscus of his left knee while giving his teammate a shaving cream pie attack. Look, we know a walk-off single from Wes Helms may be one of the most thrilling images in sports, but ask yourself, is it worth risking a stint on the 15-day DL and surgery? "We're always thinking about safety here, even when I'm pie-ing, I never run full sprint at a guy," said the Yankees' A.J. Burnett, reflecting on proper technique."Why was he jumping? I mean, you don't want to take the fun out of celebrating but you got to do it right. I don't know what else to say. I feel sorry for the guy.'' Looks like getting your pie on can really be hazardous to your health.
And when the man who's largely credited for bringing back the shaving cream pie calls for some sanity, it's time to get serious about protecting happy players from themselves. Here are some initial guidelines culled from the intrepid research of ESPN Stats and Information. Feel free to add your own:
If you must jump on home plate after a walk-off, there's no need to test your vertical.
Aaron Boone's patented bunny hop will suffice. It'll reduce the risk of a Kendry Morales landing, or next-season headhunting a la the kind Prince Fielder brought on himself.
Even the bench can't guarantee your safety.
Rookie Dustan Mohr strained his calf while jumping out of the dugout after Clint Barmes hit a two-run shot to win the Rockies' 2005 home opener. Don't force the commissioner to install seatbelts.
A blown whistle is a blown whistle.
Just ask Tony Allen, who tore ligaments in his knee after going hard to the rim after the refs stopped play. For starters, you won't risk the indignity of messing up a dunk when the play's dead. The rest is karma.
Unless you're a gymnast or Ozzie Smith, seriously reconsider the backflip.
When Real Salt Lake winger Fabian Espindola found the back of the net against the L.A. Galaxy in 2008, he decided to add a little French pastry to the score. The resulting ankle injury kept him out for eight weeks. To add insult, the goal was waved off due to an offside teammate.
There's no shame in running from a larger man.
In 1993 the 190-pound Kevin Johnson hit a game-winning shot, sending the 252-pound Charles Barkley jumping into his arms. As a result, KJ missed three games - including the playoff opener - with a knee injury. Just think of what damage an overjoyed Chuck could do now that he has 17 years' worth of Taco Bell in him.