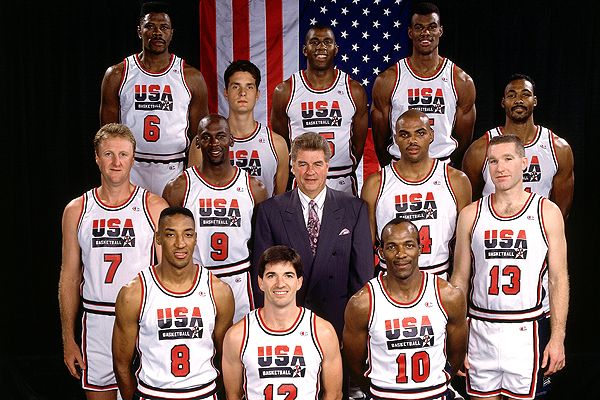 Andrew D. Bernstein/NBAE/ Getty Images
August 8, 1992: The original (and some say only) Dream Team rolled into Barcelona, Spain for the 1992 Summer Olympics with one simple goal: to win the Gold Medal in Men's Basketball. With professional hoop players competing in the Olympics on Team USA for the first time, the Dream Team crushed Croatia in the final to accomplish their goal - and explode the popularity of basketball around the globe.
In its entirety, the Dream Team included Michael Jordan, Magic Johnson, Larry Bird, Charles Barkley, Karl Malone, John Stockton, Patrick Ewing, David Robinson, Clyde Drexler, Scottie Pippen, Chris Mullen, and Christian Laettner. As head coach Chuck Daly said about his majestic team, "You will see another team of professionals, but I don't think you'll ever see another team like this."
The Dream Team got off to a nightmarish start in the final, trailing 25-23 after 10 minutes. But then they woke up, stretching out to a 56-42 halftime lead. By the end of the game, seven Dream Team members scored in double figures with Jordan's team-high 22 points leading the way.
The Dream Team won all eight of its games in Barcelona by an average of 44 points. As impressive as this is, it didn't match the mark set by Bill Russell's 1956 U.S. team - which won its games by an average of 52 points. Still, the Dream Team lauded as the greatest team ever assembled in any sport ain't too shabby either.