According to Adam Rubin, ESPNNew york.com, Francisco Rodriguez has been placed on the restricted list and has been suspended for two days without pay. In a statement, Jeff Wilbon, chief operating officer of the Mets, said "Ownership and the organization are very disappointed in Francisco's inappropriate behavior and we take the matter very seriously." Rodriguez was to appear in court Thursday, a day after he was charged with assaulting his father-in-law at a Citi Field family lounge following a game. Rodriguez was arrested and held at the ballpark police said. His father-in-law was in a hospital with a scraped face and a bump on his head.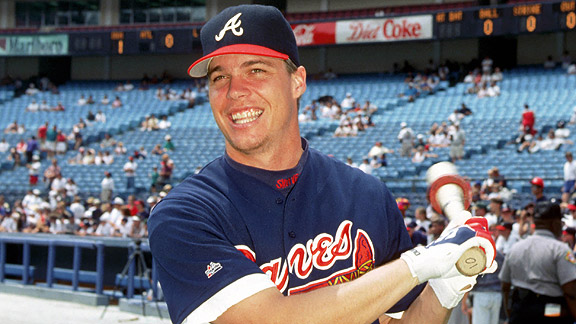 US Presswire
BRAVES 3B CHIPPER JONES HAS TORN ACL
An MRI shows Chipper Jones has torn the anterior crucial ligament in his left knee, his agent BB Abbott said Thursday morning. Abbott said he received a text message from Jones, saying the ligament was torn. Jones had been examined by Dr. Marvin Royster, Braves orthopedist who read the MRI.
USC SUSPENDS FRESHMAN RB DILLON BAXTER FOR SEASON OPENER:
USC freshman running back Dillon Baxter has been suspended for the team's season opener against Hawaii on Sept. 2 for violating team rules, coach Lane Kiffin announced Wednesday. "I think this is an extremely strong message and a very severe punishment for a player that may potentially be the most-skilled player on our whole roster," Kiffin said. "Hopefully that message not only helps him but helps our team and especially our freshman class."