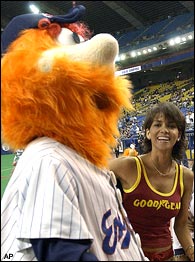 AP
"Yes Halle, that's Youppi!, Y-O-U-P-P-I-!, and my number is ... ."
August 23, 1989: The Los Angeles Dodgers and Montreal Expos just couldn't get anything going today - they played 21 scoreless innings of baseball at Olympic Stadium before Dodgers catcher Rick Dempsey hit a homer to give Los Angeles a 1-0 lead in the top of the 22nd inning. In the bottom half of the inning, Montreal's Rex Hudler got caught stealing second, which ended the game and closed the books on the epic battle. The game was the longest in Expos history and the second-longest shutout in the Bigs. Previously, in 1968, the Astros and Mets had gone 24 scoreless innings before the Astros won, 1-0.
The game might have ended in the bottom of the 16th inning, on a sacrifice fly by Expo hitter Mike Fitzgerald. But the Dodgers appealed, saying Larry Walker left third base early. Umpire Bob Davidson agreed, called him out, and the game continued.
As if the game itself weren't remarkable enough, it also marked the first time a mascot was ejected by an umpire. The Expos mascot, Youppi!, was dressed in a nightgown and danced on top of the Dodgers dugout roof until then-manager Tommy Lasorda complained. And for the mascot trivia buffs out there (you know who you are), Youppi! became the first mascot to represent two professional sports teams after later finding a new home with the Montreal Canadiens.