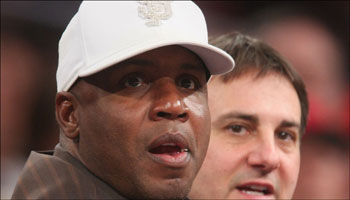 Guess who made an appearance on Beverly Hills 90210.
Today is September 2, 2010. In other words, 9-02-10. Which, to some of you (read: those who have nodded in agreement to their fair share of Bill Simmons mailbag columns) should be treated as something of a national holiday. Yes, friends, it's 90210 day!
Get ready. Because the celebrations will be endless. If you're out and about, look for diehard fans (shouldn't be hard to spot – people in their late 20s to early 30s, the guys will still have sideburns and the girls will be wearing baby doll t-shirts) to be dressed up like Brandon, Brenda, Steve or Kelly (or, if they're really lame, Andrea). If you're stuck inside, listen for Bill Simmons' podcast – he and Matthew Berry plan to give out awards like "Biggest Plot Stretch Ever" and "Least Deserving of Being on the Opening Credits."
We can't let the day go unnoticed either, so we're recalling the best athlete cameos of the show's epic 10-year run. Get ready for some serious nostalgia.
Barry Bonds
Season 4, Episode 24 —"Cuffs and Links"
Before his home run chase and everything that came with it, Barry dropped by Beverly Hills and shared a friendly game of golf with Steve Sanders and his dad. Barry played Barry Larson (what a stretch), who participated in a father/son golf tournament. Things turned from friendly to unfriendly when Steve caught his dad cheating and gave Barry the win. Score one for fictional sportsmanship.
Howie Long
Season 5, Episode 1 — "What I Did On My Summer Vacation And Other Stories"
In the season 5 premiere episode, everyone's all abuzz over the arrival of the Walsh's new houseguest, Valerie Malone (aka Tiffani Thiessen, aka Tiffani-Amber Thiessen, aka Kelly Kapowski). But the real excitement comes when NFL Hall of Famer Howie Long appears (0:38 in), inexplicably accompanying Steve on his trip back from Hawaii. Apparently, first class turns strangers into best friends every time. And no, kid. Steve is not Troy Aikman.
Kerri Strug
Season 7, Episode 5 — "Pledging My Love"
Kerri Strug parlayed her Olympic heroics the same way most teenage girls would – into an appearance on 90210. Duh. Strug – generally not known for her acting abilities, or her dulcet tones – kept her part small. The setup? When David can't get into the classes he wants at California U, he says to the registrar, "what do you have to do to get a class you want around here, win a gold medal?" to which Strug replies, "wouldn't hurt." Zing!
Cam Neely and Ron Duguay
Season 7, Episode 17 — "Face Off"
Oh Brandon. When you're not tutoring star basketball players at California University, you're playing charity hockey games with Cam Neely and Ron Duguay. Why wouldn't you be? More importantly, what dirt did Aaron Spelling have on Mr. Neely and Mr. Duguay?