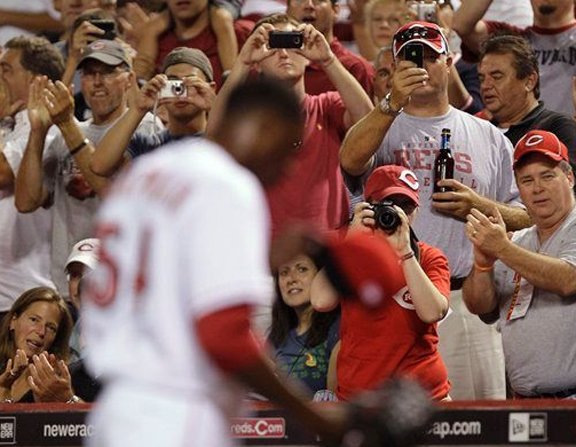 AP Photo/Al Behrman
How fast is Aroldis Chapman? Faster than autofocus, apparently.
So this Chapman guy is pretty fast, right? The Cuban left-hander notched his first big league win last night as the Reds rallied past the Brewers 6-1. In two games, Chapman has retired the six batters he's faced and struck out three of them - all on sliders. As for his fastball, he's thrown 19 total pitches - and 10 of them have been clocked at 100 mph or above.
On Tuesday, Chapman made his MLB debut and didn't disappoint. His fastball topped out at 102.7 mph - the fastest pitch thrown in the majors this season. That is, until last night, when Chapman took the mound again. On Wednesday in Cincinnati, Chapman threw two - that's right, two - fastballs that were clocked at 103 mph. And this is right on the heels of Chapman's radar-busting 105 mph pitch in his AAA tune-up game last weekend.
What does all of this mean? Well, without question, Cincinnati has a dangerously talented new reliever in their bullpen and Chapman has a seriously fast fastball. Of course, that's obvious. But how fast is that fastball? Let's slow things down and take a look at its top speed alongside some other notable velocities - just for comparison's sake.
6 mph - Fastest Michael Phelps Swim
27.3 mph - Fastest Usain Bolt Sprint
35 mph - Speed of Kangaroo Hopping
40 mph - Theoretical Human Top Speed
65 mph - Ohio Speed Limit
70 mph - Fastest Land Animal (Cheetah)
82 mph - Speed of Jamie Moyer Fastball
103 mph - Fastest Aroldis Chapman MLB Fastball (so far)
108.1 mph - Fastest MLB Fastball Ever (Nolan Ryan)
110 mph - Josh Hamilton's Bat Speed
212.089 mph - NASCAR Speed Record
2,700,000 mph - The Speed At Which You Travel Through The Universe As You Read This
Sources: Wired; How Stuff Works (and here); Sports Illustrated; The Orange County Register; TedQuarters; National Aquarium; autoblog.