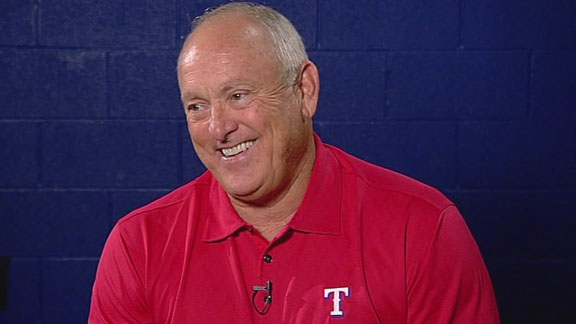 The Nolan Ryan Express pulls into Happyville after the Rangers make the playoffs and move the turnstiles.
After six months of ups and downs, injuries and milestones, the American League Division Series are finally upon us like a brisk autumn fog (that is, a fog made of AWESOME). Who's going to represent the AL in the World Series? Between the second-half stud Minnesota Twins, defending World Champion New York Yankees, emergent Texas Rangers and AL-best Tampa Bay Rays, it's impossible to tell. However, here are a few factors to consider while watching the fireworks:
Yankees and Twins
Minnesota gets to do exactly what New York did a year ago: break in their new stadium by hosting the first two playoff games. Target Field will definitely be rocking out, much like the new Yankees Stadium did, but does this mean the Twins will follow last year's Bombers and win it all? Perhaps Minnesota native Prince will grace his hometown hardball team with a song, much like the way he did for the Vikings' playoff run in January. We'd feel sorry for any fanbase having to weather "Purple and Gold." Meanwhile, the Yankees keep cranking out hit anthems courtesy of Jay-Z and friends.
Rangers and Rays
If you're a fan of flamethrowers, you've come to the right match-up. Even the owner's box (at least Texas') could teach opposing batters a thing or to, judging by the steely glares of Hall-of-Famer Nolan Ryan. Look for Cliff Lee (rescued from Seattle Mariners purgatory) of the Rangers and David Price (of Warren Spahn Award-winning fame) of the Rays to dish out the K's. Meanwhile, Tampa's team are making a bid to win the hearts of fashion-forward viewers with their custom BRaysers jackets being sported by fans and players alike. Actually, we're just hoping to see some fans at Tropicana Field in the first place. Meanwhile, the Ballpark in Arlington is seeing its first playoff action in 11 years, which may not have sparked its own clothing trend (yet), but at least has Josh Hamilton to thank for a t-shirt ready October motto.