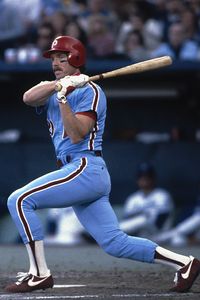 Getty Images
Mike Schmidt shows off his World Series MVP-worthy swing.
October 21, 1980: It's been 98 years since the Philadelphia Phillies franchise came into existence. During that span, they remain the only original team who had yet to win a championship … until today. Before a crowd of 65,383 joyous fans in Veterans Stadium, the Phillies win Game 6 against the Kansas City Royals by the score of 4-1. The win, however, wouldn't come without a dramatic finish.
The Royals, led by Hall-of-Famer George Brett, would load the bases in the eighth and ninth innings against Phillies pitcher Tug McGraw. Only a swing of the bat away from Kansas City at least tying up the game, McGraw would step up his game accordingly, allowing only one run in the eighth inning and eventually striking out Willie Wilson for the final out of in the ninth. This would also solidify the win for Philadelphia's Steve Carlton.
Phillies Hall-of-Famer Mike Schmidt's two-run single in the third inning would prove to be the game-winner. After knocking in a World Series total of seven runs with two homers and a .381 average, Schmidt would be named Series MVP. In 2008, 28 years later, the Phillies would win their second World Championship.