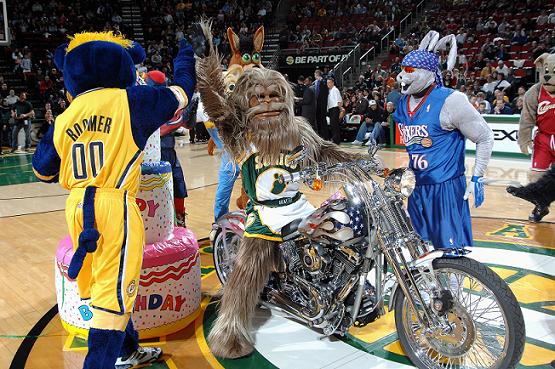 Getty Images/file photo
When the Oklahoma City Thunder visited Portland over the weekend they were greeted by a hairy blast from the past. Was that Squatch (formerly of the Seattle Sonics) in the crowd holding up a sign that read "HOMELESS"? We know that times are tough, but there's got to be a place for mascots flitting between jobs ...
Only it wasn't really the big-footed guy after all. It wasn't too hard to tell: First, the Chewbacca mask is a dead giveaway. Wookies can't jump, and they certainly don't backflip off of a ladder (sorry Bango, Squatch did it first). Second, would the real Squatch rock a Brent Barry jersey? If not his custom threads, perhaps a Shawn Kemp, Gary Payton or current Blazers coach Nate MacMillan pullover? Third, aren't all mascots under contract to travel by ATV (unless they're falling from ceilings)? At least he gets an "A" for effort.
Turns out the man in the suit was 6' 8" Seattle superfan (and former Sonics employee) Matt Heuer, who made a road trip from the Thunder's original address down to the City of Roses. It's all in protest to his former team's infamous exit. "The Sonics were more than a basketball team to a lot of us," he said. "I really just wanted the discussion of the Sonics to be brought up again and this is really the only relevant event we have left to demonstrate our loss and frustration." True, it would be SUPER awkward to make nice and shake hooves with Rumble in OKC.
So the search for the authentic Squatch, along with Seattle sports fan miseries continues. If you come across any leads, let us know.