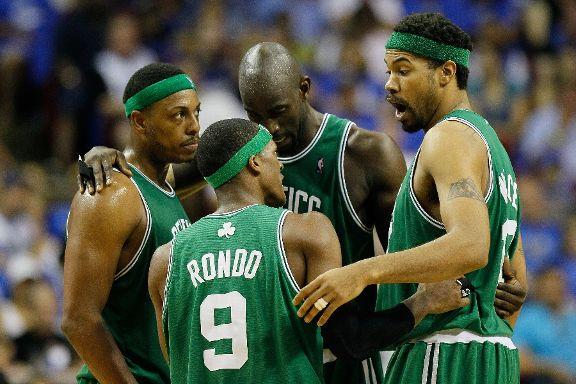 Getty Images
The Boston Celtics have won eight of their first ten games, including their last two on the road. The C's, off until Wednesday, lead the Atlantic Division by 4 1/2 games and will host John Wall and the Washington Wizards on Wednesday. Doc Rivers also finds his team leading Week 3's Power Rankings, by ESPN.com Senior Writer Marc Stein.
1) Celtics (8-2) Boston's only two losses came on the road on the second night of a back-
to-back. Our guy Rajon Rondo, meanwhile, has racked up at least 15 assists in seven of 10 games already ... after doing so eight times all of last season.
2) Hornets (8-0) Fun factoid to keep the Hornets in Dreamland, even after they finally lose one: The last team to lose in each of the past three seasons (Celts in '07-08, Lakers in '08-09 and Celtics in '09-10) all made it to the Finals.
3) Lakers (8-2) It's not just two straight L's that dropped the Lakers two spots. It's how they lost. Giving up 239 points in the past two games without going into overtime in either one, specifically. After all that nationwide slobbering.
4) Spurs (8-1) It says right on the Most Improved Player ballot that the award "is designed to honor an up-and-coming player." But how do you exclude 30-year-old Richard Jefferson if RJ and the suddenly free-scoring Spurs stay this hot?
5) Jazz (7-3) Everyone wants to talk about all the great escapes Utah just pulled off on its four-games-in-five-nights tour of the East. Me? Still thinking about the near loss to the Clips and how much it fueled this week of wild rallies.
To see teams 6-30, click here.