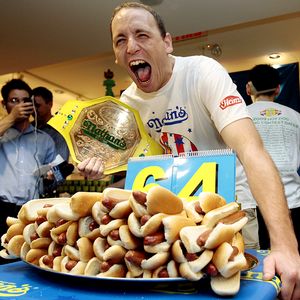 AP Photo/Richard Drew
Get ready, Joey. You might have some competition climbing the ranks.
Just when you were getting used to Quidditch teams on college campuses, there's a new "sport" popping up at institutions of higher learning. Well, at least on ONE institution of higher learning. Yes, friends. The University of Maryland has a competitive eating team (and boy can it write a mission statement).
The club is brand new – it just became official on Monday – but is already 30 members strong. And behind it all is Terrapin junior Keith Solomon, an environmental engineering major from Marlboro, NJ. Keith, the team's founder and president, came up with the idea back when he was a freshman and had to burn some extra dining points before he lost them.
Says Keith, "One day me and my friends bought a ton of pizzas and chicken fingers and just demolished it all. That's when this idea was born, but I was just a stupid freshman with hopes and dreams. Those dreams were finally realized this year when I brought the idea back, found people who were interested, and made this dream a reality."
See kids? Never give up on your goals. Let Keith be an inspiration to you all. Anyways. Of course we had many burning questions for the creator of the first (as far as we know) collegiate eating team in the nation. And Keith was nice enough to answer them for us. So here we go.
SC: How did you become interested in competitive eating?
KS: When I was young, my family would always yell at me for eating too fast at the dinner table. That's when I knew that this was my calling.
SC: Did you choose to attend Maryland for its dining options?
KS: If I wanted good food, I would have stayed in Jersey.
SC: Do you train?
KS: Silent, consistent training is what we emphasize. But of course, when competition times roll around, it's time to buckle down and start swallowing whole grapes and expand our stomachs.
SC: Who is your biggest rival?
KS: Currently, we are the first and only collegiate team in the nation, so competition is scarce. Naturally, Duke is our biggest rival, once they start a team.
SC: Do your uniforms involve elastic waist pants?
KS: We currently do not have uniforms, but they would include elastic waist shorts, stain-proof tee shirts and bibs.
SC: Do you get to cut the lines at the dining hall?
KS: No, but we hope to arrange this soon. Great idea.
SC: Who is your competitive eating inspiration?
KS: Being based in Maryland, naturally, our inspiration is Juliet Lee .
SC: Any advice for future competitive eaters?
KS: Size is not important. Anyone can be a competitive eater, it takes focus and dedication. You just have to train hard and not be afraid of food. Foods are friends, not enemies.
Well said, Keith. We wish you luck this season. Break a, um, intestine?