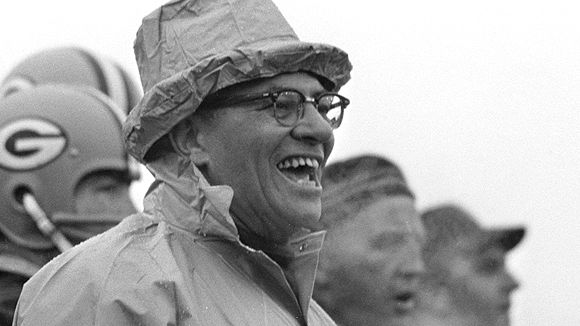 AP Photo
"Winning a Tony Award isn't everything -- it's the only thing"
Let's cut right to the chase: with the exception of "Damn Yankees," sports-themed shows on Broadway don't fare very well compared to the likes of "The Lion King" and "The Producers." Did you manage to catch "That Championship Season," "Take Me Out" or "All American"? How about "Buck White," the 4-day-running 1969 musical starring ... wait for it ... Muhammad Ali? However, the Great White Way is giving sports another try, this time with the new play "Lombardi" (based on David Maranis's best-selling biography "When Pride Still Mattered: A Life of Vince Lombardi").
Since the show is still in previews and doesn't open until October 21, it's too early to tell if it will face reviews as cold as a frozen tundra or take a Lambeau Leap into box office supremacy. Word on the street, however, is that it provides entertainment for men and women, Cheeseheads and sports haters alike. It's especially worth checking out if you're a fan of 80's TV (Dan Lauria of "The Wonder Years" and Judith Light of "Who's the Boss" star as Vince and Marie Lombardi, respectively). But if the show is as successful as Lombardi's short coaching career, perhaps it could start a new trend of sports theater, including:
Threepeat: The Musical
The touching story of Phil Jackson and his ability to coach teams to 3 consecutive championships time and time (and time) again. The show paints a softer picture of the otherwise all-business coach. Featuring heart-warming, show-stopping numbers like "I Wanna Be Like Mike, Too", "Life Is A Triangle Offense" and "One More Ring For My Pinkie".
Volley
A heart-warming two-man play about Roger Federer and Rafael Nadal. The two talk back and forth (hence the clever title) about how tennis fans thrive on their bitter rivalry but, in all actuality, they just want to be doubles partners and conquer the world -- together.
Damn Huskies
This direct rip-off of "Damn Yankees" revolves around hall of fame coach Pat Summitt and her Tennessee Lady Vols basketball team's NCAA Championship struggles against the UConn Huskies. A real slam-dunk for fans of the underdog.
And, hey, if "Lombardi" doesn't win any Tony Awards, at least the coach still has football's biggest award named after him.