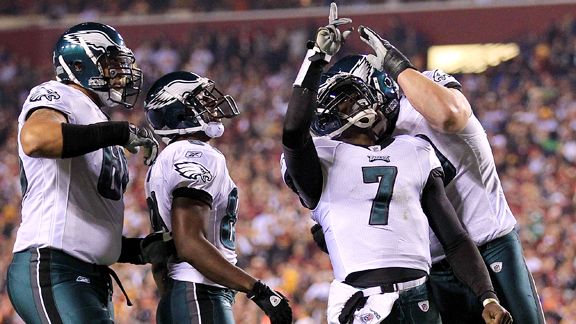 Chris McGrath/Getty Images
Michael Vick's Historic Night Stuns Redskins as Eagles Erupt
It wasn't even close. Michael Vick needed just four seconds to set the tone for Philadelphia's 59-28 victory over Washington on Monday night. Vick connected with WR DeSean Jackson on an 88-yard TD during the first play from scrimmage, part of a 28-point first quarter. Vick finished 20 of 28 for 333 yards, with 4 TDs and 2 Rush TDs in the win. Redskins QB Donovan McNabb was 17 of 31 for 295 yards, 2 TDs and 3 INTs in defeat.
Donovan McNabb Gets $40M Guaranteed
Bittersweet day for Donovan McNabb. On the same day the Redskins QB lost to the Philadelphia Eagles, McNabb signed a five-year contract extension worth $78 million, with $40 million guaranteed. A source told ESPN NFL Insider Michael Smith, who first reported the agreement, that McNabb's contract could be worth $88 million if incentives within the contract are reached.
Buster Posey, Neftali Feliz Win Awards
A unique battery. San Francisco Giants catcher Buster Posey and Texas Rangers closer Neftali Feliz wound up together on the winning side Monday as Rookies of the Year. Posey helped the Giants win the World Series for the first time since 1954 and finished ahead of Atlanta OF Jason Heyward. Feliz, who set a rookie record with 40 saves, finished far ahead of Detroit CF Austin Jackson for the AL honor.
Brett Favre Says Shoulder 'No big deal'
Change of heart...from Brett Favre??? One day after he told ESPN's Ed Werder that he was feeling pain in his throwing shoulder, Favre said the shoulder is "no big deal -- right now," and he agreed with team officials that an MRI is not necessary. Vikings coach Brad Childress said he expects Favre to return to the practice field on Thursday.
Lamar Odom OK; Theo Ratliff Out
Negative is positive for Lamar Odom. The Lakers forward underwent a MRI on his right foot Monday that came back negative. Odom, who is averaging 15.1 points and 10.9 rebounds, was diagnosed with a bone bruise and is expected to play Tuesday against the Bucks.
LeBron James Humbled by Person of Year Nomination
LeBron James sounded undeserving of being nominated for Time's Person of the Year. "That's just crazy. What those guys did, the courage and what they stood for, I should be nowhere near that list. Nowhere near it, James said on Monday. The winner of the award, bestowed since 1927 on a person or group who "has done the most to influence the events of the year," is expected to be announced next month.
Chiefs Coach Todd Haley Apologizes
Chiefs coach Todd Haley apologized Monday for refusing to shake hands with Broncos coach Josh McDaniels after Kansas City's 49-29 loss on Sunday. Haley pointed his finger at McDaniels, turned and stomped away without shaking.
Jeff Reed Rips Into Heinz Field Turf
The Pittsburgh Steelers are contemplating cutting Jeff Reed. Reed missed his seventh field goal of the season during Pittsburgh's 39-26 loss to New England on Sunday night. League sources told ESPN NFL Insider Adam Schefter that the team will bring in kickers for workouts on Tuesday.
Urban Meyer: Steve Addazio Stays
Coach Urban Meyer plans to restore the Florida Gators, and doing so with offensive coordinator Steve Addazio along for the rebuilding project. Meyer said Monday he has no plans to fire or demote Addazio, whose lackluster offense and underachieving offensive line are receiving much of the blame for the team's first three-game losing streak at home in more than two decades.
Antonio Margarito Releases Statement
A humbled competitor. Antonio Margarito remained hospitalized in Dallas on Monday, awaiting surgery Tuesday on the fractured right orbital bone he suffered during his loss to Manny Pacquiao Saturday night. "I would like to congratulate Manny Pacquiao for his win on Saturday Night," Margarito said in a statement. "It was a tough and difficult fight for me and I hope the fans enjoy our battle at Cowboys Stadium".
Note: The Elias Sports Bureau, ESPN Stats and Information group and The Associated Press contributed to this report.