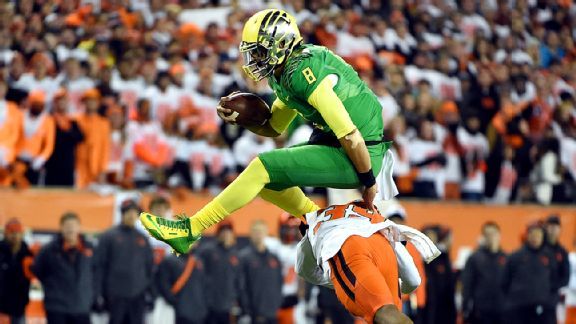 Steve Dykes/Getty Images
Marcus Mariota has led Oregon to a Rose Bowl berth.Marcus Mariota was arguably the second-best quarterback in college football in each of the previous two seasons.
This year, he has not only been recognized as the best quarterback, but the sport's best player as well.
Mariota easily won the Heisman Trophy on Saturday night, topping Melvin Gordon and Amari Cooper. Mariota had 2,534 total points, including 788 first-place votes. He received 90.9 percent of the possible points, the second most in the trophy's history. Gordon earned 1,250 points, and Cooper 1,023.
The history
Mariota is the first Heisman winner in Oregon history and the only Ducks player to finish first or second in the voting.
Won Heisman, Maxwell & O'Brien
in same season
He's the eighth player to win the Heisman in a season in which a previous Heisman winner at the same position (in this case, Jameis Winston) also played.
He's the first winner from a school in the Pacific Northwest (encompassing Oregon, Idaho and Washington) since Terry Baker of Oregon State in 1962.
Mariota became the ninth quarterback to win the Heisman Trophy, Maxwell Award and Davey O'Brien Award in the same season, the third to do so in the past eight seasons, joining Tim Tebow (2007) and Cam Newton (2010).
Mariota and Winston will meet in the Rose Bowl on Jan. 1. It will be the fourth time two players with Heismans will have faced each other in a game. The last instance was in the BCS National Championship Game in January 2009, when Tim Tebow and Florida defeated Sam Bradford and Oklahoma.
Quarterbacks have won each of the past five Heismans and 13 of the past 14 (excluding Reggie Bush's vacated award).
What Mariota does best
One of Mariota's most lauded traits is his ability to find the end zone without turning the ball over. He has been responsible for 53 touchdowns this year and has committed five turnovers, the second-best margin (plus-48) by any Power 5 player over the past 10 seasons. Tebow (plus-49 in 2007, including plus-4 in the Citrus Bowl) is the only player with a better differential in that span.
Two of Mariota's 372 passes have been intercepted this year, just a shade above half a percent. If he can maintain that in the College Football Playoff, he would break the FBS single-season record (minimum 350 passes) that Kellen Moore set in 2009, when three of his 431 passes (0.7 percent) were intercepted.
Mariota does this and still throws the deep pass accurately. His 54 completions on throws 15 or more yards downfield are the most among Power 5 players. He completes 56 percent of those throws, a mark that ranks second.