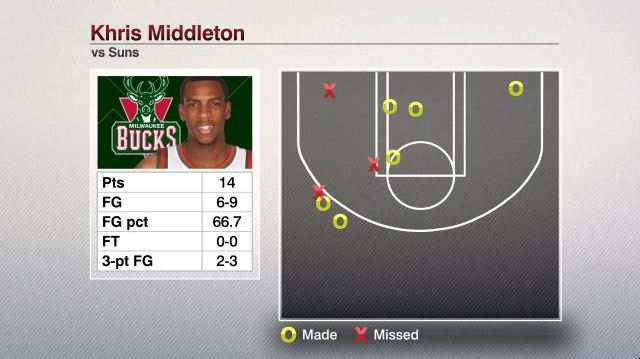 Milwaukee Bucks fans experienced the lowest of lows and the highest of highs in the same night.
MiddletonAfter watching Jabari Parker go down with a knee injury, they got to see an amazing finish, one that featured six lead changes in the final 42 seconds against the Phoenix Suns. Khris Middleton gave the Bucks the win with a desperation 3-pointer at the buzzer. Milwaukee is now 13-12, two wins shy of last season's total.
The buzzer-beating game-winner was the first of Middleton's career.
The Bucks have gone as Middleton has gone of late. They're 3-2 in their past five games. Middleton is 18-of-26 from the field and 6-of-8 from 3-point range in the three wins (the other two came against the Miami Heat and the Los Angeles Clippers). He's a combined 3-for-12 in the two losses.
Middleton may not shoot the ball well overall (44 percent for the season), but the Bucks have gotten the most out of him this season. Entering Monday, they had outscored opponents by 5.9 points per 100 possessions with him on the court and were outscored by 5.8 points per 100 possessions when he was on the bench. He's also shooting 39.6 percent from 3-point range.
That held up on Monday. The Bucks outscored the Suns by 11 points in his 29 minutes and were outscored by nine points in his 19 minutes on the bench.
This was a tough one to take for Suns fans. They've lost twice on shots at the buzzer this season, both on desperation 3-point shots that seemingly hit every part of the basket before dropping through. The other was by Blake Griffin.