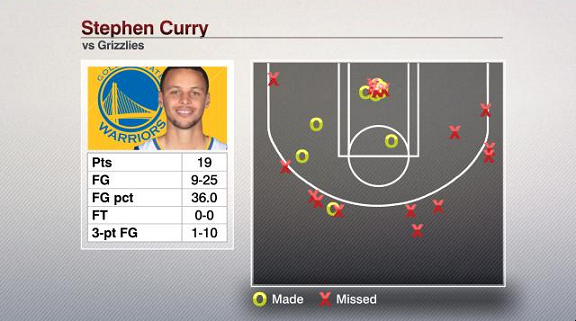 It was an atypical night for Stephen Curry.
The Golden State Warriors met their match.
They finally ran into a team they couldn't beat, losing to the Memphis Grizzlies 105-98 on Tuesday night.
The Grizzlies are 20-4, just one game behind the Warriors in the Western Conference. It's the fastest the Grizzlies have ever gotten to 20 wins in team history.
Turning point: Curry sits, Grizzlies run away
The Warriors led by six points at the end of the first quarter and appeared to have early command of the game. But with Stephen Curry on the bench, the Grizzlies took full advantage with a 20-0 run to start the second quarter.
Beno Udrih scored or assisted on 19 of the Grizzlies' 20 points. The only point Udrih was not responsible for was on a free throw following an and-one by Jon Leuer.
The Grizzlies shot 8-of-10, including three 3-pointers by Vince Carter. Sixteen of their 20 points came on jump shots, including 4-of-6 on contested jumpers. The Warriors were 0-of-11 during that stretch.
The Warriors outscored the Grizzlies by 16 points for the game with Curry on the floor, but shot 3-of-19 and were outscored by 23 points when Curry sat.
Gasol looks for his shot
With Golden State center Andrew Bogut sitting out, Memphis center Marc Gasol was aggressive in looking for his own offense. Gasol's 21 field goal attempts were his second-most this season and seven more than his season average. Gasol made 26 passes Tuesday, 24 fewer than his average (per NBA SportsVu data) coming into the game.
Not Curry's best night
Even though Curry had a good plus-minus, he had an atypical game.
He went 9-of-25 from the field and made only 1 of 10 3-pointers. He was 0-for-9 on contested jump shots.
The Warriors also struggled when forced to slow down the pace. They shot only 33 percent from the field in their half-court offense.
Elias Sports Bureau Stat of the Night
This marked the first time in Grizzlies history that they snapped an opponents' winning streak of at least 10 games. The two longest streaks they've snapped have come this season: the 16-game streak by the Warriors and a nine-game streak by the Portland Trail Blazers.