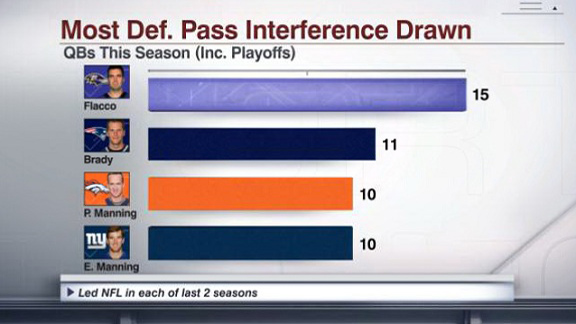 Joe Flacco has drawn more defensive pass interference penalties than anyone else this season.Joe Flacco won his fifth consecutive playoff game Saturday night, leading the Baltimore Ravens to a divisional playoff game Saturday against the New England Patriots.
The Ravens' victory over the Pittsburgh Steelers featured a play that does not appear in the quarterback's stat line, but one that helped Flacco lead his team to the win: defensive pass interference. It's a play that Flacco appears to have perfected.
King of the DPI
Including the 32-yard defensive pass interference Saturday, Flacco has drawn 15 defensive pass interference penalties (DPI) this season, the most by any quarterback.
Since entering the league in 2008, Flacco has drawn 78 accepted DPI penalties (including the playoffs), most in the NFL during that span and 13 more than the next-closest quarterback (Eli Manning, 65).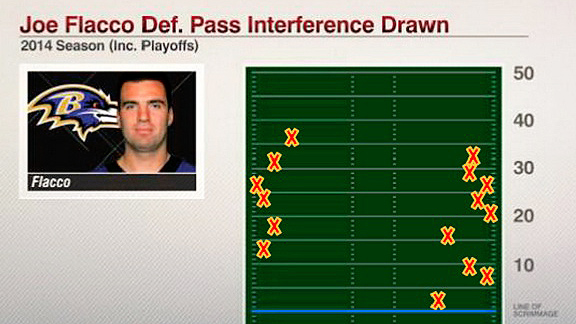 Flacco has tended to draw DPI on deep passes.
The "art" behind drawing DPI
On the 15 DPIs drawn by Flacco, 11 of the accepted penalties have come on throws more than 15 yards downfield. The common theme among them? Underthrown passes.
Six of the penalties have come as a result of an underthrown downfield pass with the receiver coming back for the ball but the defender failing to adjust.
It happened in last week's wild-card game against Pittsburgh, on a third-and-2 play from the Ravens' 37 early in the third quarter. Torrey Smith beat Antwon Blake on a go route, Flacco slightly underthrew Smith, and Blake collided with Smith for a 32-yard penalty.
Where the penalties are drawn
Flacco has drawn nine DPI calls on throws at least 20 yards downfield, most in the NFL.
Flacco's 15 DPIs drawn have accounted for 315 penalty yards. All 15 of the penalties have come when targeting Steve Smith Sr. or Torrey Smith. Torrey Smith has been Flacco's go-to target for drawing interference. Flacco drew 12 accepted DPI penalties for 261 yards when targeting Torrey Smith this season, including the 32-yarder Saturday.
Penalties translate to points
The Ravens have scored 56 points this season after an accepted DPI penalty. Their point total could be greater. The Ravens missed a field goal and were stuffed on fourth-and-goal from the 1 after defensive pass interference calls.
Baltimore has been forced to punt once after the 15 accepted DPI penalties.
Analytics behind Flacco's drawn penalties
Part of the formula for Total QBR includes the penalties a quarterback draws and the result of those plays and drives.
This season, Flacco led all quarterbacks in Expected Points Added (EPA) from penalties at 12.85. While this could be dismissed as a fluke, Flacco has led the NFL in EPA from penalties in five of the last six seasons.