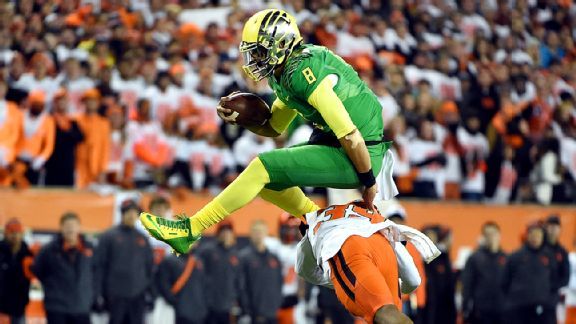 Steve Dykes/Getty Images
The numbers say Marcus Mariota has had a historically great season.Oregon quarterback Marcus Mariota already has one remarkable performance in the College Football Playoff. And if he has his typical game and leads the Ducks to victory Monday night against Ohio State, a case could be made that his 2014 season will be the best in college football history.
Let's go by the numbers to break down what Mariota has achieved and what's at stake in the CFP National Championship Game.
Touchdowns vs. turnovers
56 – Mariota has been responsible for a Pac-12 record 56 touchdowns this season. He has been responsible for at least four touchdowns in 10 games, tied for the most such games in the last 10 seasons with Tim Tebow (2007) and Colt Brennan (2006).
50 – Mariota is on pace to become the first player in FBS history to account for at least 50 more touchdowns than turnovers in one season (56 touchdowns, six turnovers)
0.7 – With three interceptions in 408 passes, Mariota is threatening the record for lowest interception percentage in a season. If Mariota throws at least 23 passes in the national championship game without an interception, he will break the record for lowest interception percentage in a season, held by Boise State's Kellen Moore (2009).
Heisman Trophy
10 – If Oregon defeats Ohio State on Monday night, Mariota will be the 10th quarterback in the poll era (since 1936) to win a Heisman Trophy and national title in the same season.
90.9 – Mariota received 90.9 percent of possible points in Heisman Trophy voting, second to Troy Smith in 2006 (91.6).
788 – The first-place votes Mariota received for the Heisman Trophy are the third-highest of any player in the history of Heisman voting.
Team and player efficiency
24.9 – Oregon leads the FBS with a +24.9 offensive efficiency this season, meaning the Ducks' offense contributed almost 25 points per game to the team's final scoring margin, compared with what an average offense would contribute. That is three points higher than any other FBS team this season.
91.7 – Total QBR is a complete measure of quarterback efficiency, and Mariota is on pace to post the third-highest single-season QBR since 2004. Neither of the two players with higher QBRs won a Heisman or a national championship.
Total player
4,852 – Mariota has 4,852 yards of total offense this season. His last three seasons rank in the top four in Oregon history. Mariota's 4,121 passing yards this season alone would rank second in total offense in school history - behind his 4,380 yards last season.
ESPN's Football Power Index predicts Oregon with a 63 percent chance of winning the inaugural College Football Playoff. The Ducks will again depend on Mariota's arm and legs. Will he deliver another memorable performance to cap what might be the greatest season in college football history?