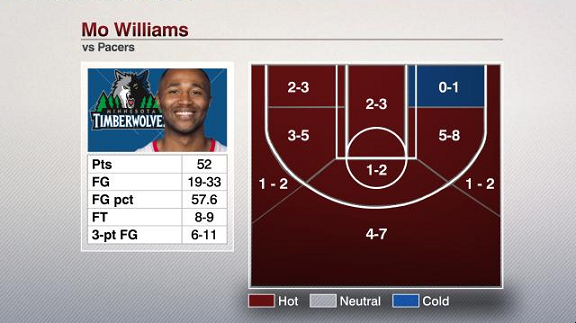 Mo Williams took it upon himself to single-handedly end the Minnesota Timberwolves' 15-game losing streak.
Williams, who had totaled 50 points in his previous three games combined, set a Timberwolves record with 52 points against the Indiana Pacers on Tuesday. That's the most points by anyone in a game this season. The previous two players to score at least 50 in a game are both Timberwolves: Williams this season and Corey Brewer with 51 against the Houston Rockets last season.
Williams also joined Michael Jordan and Larry Bird among those who have scored at least 50 points in a game against the Pacers. The full list is in the chart on the right.
50-Point Games vs. Pacers All-Time
With help from the Elias Sports Bureau, we can also tell you that …
• Williams was averaging 11 points per game entering the day. That's the second-lowest scoring average for anyone at the time of a 50-point game (at least 20 games into the season).
The only player with a lower average at the time was Terrence Ross, who was averaging 9.3 at the time of his 50-point game last season.
• The 32-year-old Williams is the fourth-oldest player at the time of his first 50-point game, trailing Andre Miller (age 33), Cliff Robinson (age 33) and Sam Jones (age 32).
• The 15-game losing streak is the longest ever snapped by a team with a 50-point scorer. The previous longest was an 11-game streak snapped by the 1962-63 San Francisco Warriors when Wilt Chamberlain scored 61 points against the Syracuse Nationals.
• The 52 points are the most ever scored by a player in a win that snapped a losing streak of at least 15 games. The previous high for most points scored by a player in a win that snapped a losing streak of at least 15 games was 42 points by Adrian Dantley in snapping an 18-game losing streak by the Utah Jazz against the Kansas City Kings in April 1982.
How he did it: midrange Mo
Williams was 19-of-33 from the field, including 11-of-19 from midrange (2-pointers from outside the paint). He entered the day averaging only two midrange makes per game and shooting 41 percent from that part of the court.
It was the most midrange makes for a player in a game this season.