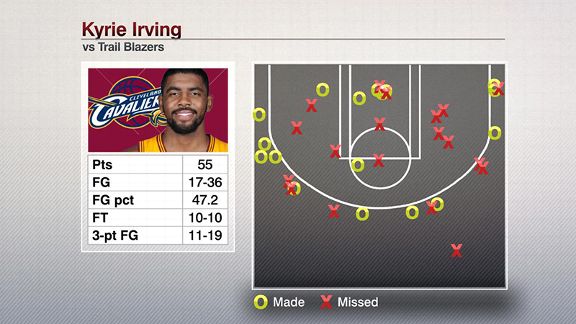 ESPN Stats & Information
Kyrie Irving was one point shy of tying the Cavaliers' franchise scoring record.Kyrie Irving scored a career-high 55 points, including the game-winning 3-pointer in the final 10 seconds as the Cleveland Cavaliers defeated the Portland Trail Blazers 99-94.
Irving's 55 points are the most in Cavaliers franchise history by a player not named LeBron James, and just one point shy of matching James for the most by a Cavalier.
Most Points In Single Game At Cleveland
If you're a Cavaliers fan, it's been a while since you've seen a performance like that in Cleveland. In fact, it's the most points scored by a Cavalier at home in franchise history.
LeBron has eight 50-point games with the Cavaliers, but all of them have come on the road. The only previous 50-point game by a Cavalier at home was by Walt Wesley in 1971. The only visiting player to score more than Irving's 55 at Cleveland was Michael Jordan, who scored 69 points in 1990.
Irving made a franchise-record 11 3-pointers, breaking the record of 10 previously set by C.J. Miles last season. Irving joins Joe Dumars as the only players in NBA history with at least 10 3-pointers and 10 free throws in a game.
Kyrie Irving With/Without LeBron James
This Season
It was just the Cavaliers' second win in 10 games this season without James. Irving has stepped up in such games with 27.3 points per game, compared to 20.7 when James is in the lineup. Irving has eight more field goal attempts per game without James, but he has also been less efficient (lower field goal percentage and more turnovers per game).
Lack of continuity for Cavaliers
Another missed game by James continues a theme of inconsistency for the Cavaliers in terms of their lineup. Throughout the season, the Cavs have dealt with injured stars and trades.
Their 25-12 record with James (.676 win percentage) would be second in the East behind the Atlanta Hawks.
But even that doesn't represent the current Cavs team at full strength. Timofey Mozgov, J.R. Smith and Iman Shumpert recently joined the team. In the eight games with Mozgov and Smith after James returned from injury, the Cavs were 7-1. Their offensive efficiency in those eight games (115.9 points per 100 possessions) would rank first in the league for the season.
In their past five games together, it's even better. Not only would their offensive efficiency in that span rank first in the league (116.0), but their defensive efficiency (97.4) would rank second.
It's just a matter of continuity -- whether or not the Cavaliers can stay healthy and continue the rhythm they developed in those eight games.
The Cavaliers most used lineup includes Anderson Varejao, who is out for the season. Their next-most used lineup -- Irving, LeBron, Kevin Love, Shawn Marion and Tristan Thompson -- has played just 110 minutes together this season. The New York Knicks are the only team whose most used lineup has played fewer minutes together.