Issac Baldizon/Getty Images
Floyd Mayweather Jr. and Manny Pacquiao encountered each other at an NBA game in January.
Tale of the tape
The only face-to-face appearance of Floyd Mayweather Jr. and Manny Pacquiao before fight week is scheduled for 4:30 p.m. ET Wednesday at the news conference advancing the highly anticipated and long-awaited matchup.
In ESPN's pound-for-pound rankings, Mayweather is No. 1 and Pacquiao is No. 2.
Mayweather, a two-time fighter of the year (2007, 2013), has won world titles in five weight classes -- one of five fighters to do so. He has a record of 47-0 with 26 knockouts. Twenty-four of those victories have come in world title fights.
World title in 5 weight classes
Pacquiao is regarded as the second-best fighter in the world. He is a three-time fighter of the year (2006, 2008, 2009) and has won world titles in eight weight classes. His record is 57-5-2 (38 knockouts), including 18-3-2 in world title fights.
The news conference at Nokia Theatre at L.A. Live in Los Angeles will be the first public meeting since their brief encounter at the Bucks-Heat NBA game on Jan. 27.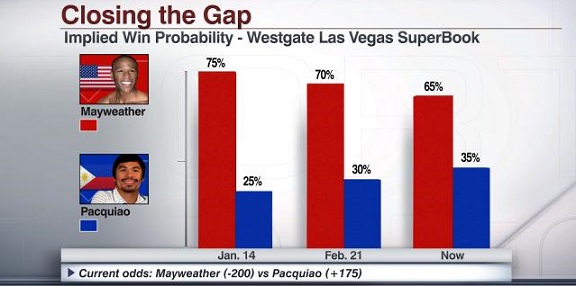 Bettors increasingly favor Pacquiao
The Westgate Las Vegas Superbook has Mayweather as a minus-200 favorite (lay $200 to win $100). Pacquiao is a plus-175 underdog.
On Jan. 14, before the fight was announced, Mayweather was a minus-350 favorite (an implied 75 percent win probability), and the line has steadily moved in Pacquiao's favor since then.
A who's who
Along with the fighters, some of the key figures who are expected to be at the news conference:
• Freddie Roach (Pacquiao's trainer): seven-time Boxing Writers Association of America trainer of the year, Pacquiao's trainer since 2001
• Leonard Ellerbe (Mayweather Promotions CEO, Mayweather's promoter): has been a part of Mayweather's camp since his pro debut in 1996
• Bob Arum (Top Rank CEO, Pacquiao's promoter): in charge of Top Rank, which promotes Pacquiao and used to promote Mayweather
• Al Haymon (Mayweather's adviser): four-time BWAA manager of the year but never speaks with media members.
• Stephen Espinoza (Showtime executive vice president and general manager of Showtime Sports): in charge of all boxing events related to Showtime Sports; Mayweather has an exclusive contract to fight for Showtime.
• Ken Hershman (HBO Sports president): in charge of all boxing events related to HBO Sports; Pacquiao has an exclusive contract to fight for HBO.
• Richard Sturm (president of MGM Resorts): The May 2 Mayweather-Pacquiao fight will be at the MGM Grand.
Tickets have not gone on sale for the fight, but according to Forbes, they are expected to start at a minimum of $1,000. Ringside seats are expected to have a face value of $5,000, and they might not be available to the general public.
The event is expected to double the largest boxing gate in Nevada State Athletic Commission history, set in 2013 when the Mayweather-Saul Alvarez fight garnered $20 million in live gate sales. There will be no complimentary tickets given to celebrities and dignitaries, according to reports.
Top Rank promoter Arum has offered one complimentary ticket: to MMA superstar Ronda Rousey.