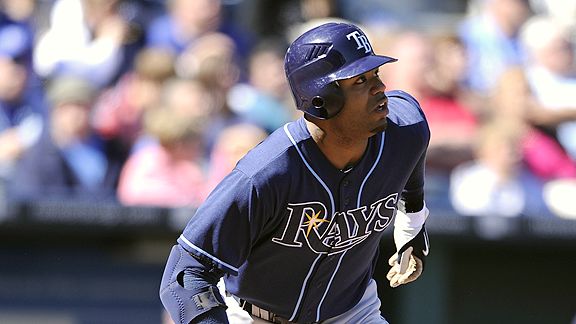 John Williamson/MLB Photos via Getty Images
The skill sets of Carl Crawford make him an ideal fit for the Angels, whose offensive and defensive numbers suffered significantly in 2010
There may be few moves that would make more statistical sense this winter than for Carl Crawford to sign with the Los Angeles Angels of Anaheim.
News reports indicate that the Angels will be among the heaviest pursuers in the Crawford sweepstakes and give them credit for knowing their primary weakness. The departures of Chone Figgins and Vladimir Guerrero were significantly costly. No team in the majors had a bigger drop in both runs scored (the Angels dropped from 883 runs in 2009 to 681 in 2010) and on-base percentage (.350 to .311) over the last two seasons.
Crawford, a Silver Slugger winner, can fix a lot of the Angels issues in one swoop. He hit .307 in 2010 with a .356 on-base percentage and a .495 slugging percentage. His 13 triples would help a team that had only 19 last season, tied for third-fewest in baseball. Crawford rated behind only Josh Hamilton among American Leaguers whose primary position was left field using a metric known as weighted On-Base Average (devised by occasional ESPN.com contributor, Tom Tango, it is scaled similar to on-base percentage, but with a greater weight for doubles, triples and home runs).
Biggest Decline in Runs Scored
2009 to 2010
In a year in which pitching dominated, Crawford was one of a small group of players whose offensive production increased from 2009 to 2010, with his wOBA increasing from .367 to .378. No Angels regular had a higher wOBA than Hideki Matsui's .356 in 2010.
Chances are you're familiar with Crawford's speed. He ranked among the American League leaders with 47 stolen bases and ranked fourth in a Bill James-devised stat, baserunning gain. Crawford scored a +25 in this metric, which measures a hitter's ability to avoid double plays (he hit into two in 2010) and take extra bases as a baserunner without being thrown out (for example, he scored from first on a double 11 times in 19 possible situations, above the MLB average of 40 percent).
The feeling is that the Angels could make Crawford their No. 3 hitter, but they also could hit him leadoff if the need bore out. Much of the Angels offensive struggle in 2010 could be attributed both to injuries (Kendry Morales most notably) and the inability of their leadoff man to get on base. The top hitter in the Angels order had an on-base percentage decline from .387 in 2009 to .325 in 2010.
Crawford, coming off his first Gold Glove Award, also fills a significant need defensively. Angels leftfielders ranked tied for third-worst in the Baseball Info Solutions metric Defensive Runs Saved. This stat measures an outfielder's ability to turn batted balls into outs, deter baserunners and rob home runs. Crawford has led all leftfielders in that measurement in each of the last three seasons, finishing tied in 2010 with Gerardo Parra.
LA Angels No. 1 Hitter in Lineup
Last 2 Seasons
The other means by which this is a perfect marriage is that a large contractual commitment will not be an issue to Angels owner Arte Moreno. Over the last three seasons, the Angels have signed players to contracts that will pay out $162 million, the fourth-largest potential outlay for any team in free agency in that span. Crawford's deal will likely rival the three largest free agent commitments in Angels history -- Torii Hunter (five years, $90 million), Mo Vaughn (six years, $80 million) and Vladimir Guerrero (five years, $70 million).