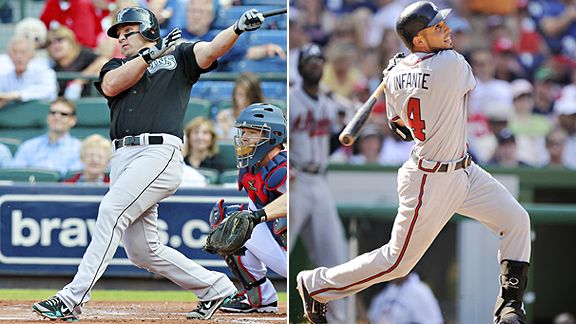 Getty Images
Dan Uggla and Omar Infante figure to both make significant impacts on their new lineups in 2011.
The statistical implications of the deal sending Dan Uggla from the Florida Marlins to the Atlanta Braves for Omar Infante and Mike Dunn are significant.
In obtaining Uggla, the Braves not only acquire the premier middle infielder in terms of home run hitting, but also, next to Albert Pujols, one of the best right-handed power hitters in the National League.
Uggla's 154 home runs are the most by a middle infielder in his first five seasons, in major league history (18 more than Ernie Banks). They also trail only Pujols for most home runs by an NL right-handed hitter in these last five seasons.
Most HR by Middle Infielder
First 5 Seasons, MLB History
After watching what Uggla did to them at Turner Field, Braves fans will be quite happy to be able to root for him and not against him. Uggla is a .354 career hitter at Turner Field. His batting average is the third-best of anyone there since the ballpark opened in 1997. His .652 slugging percentage there trails only a pair of immortals -- Barry Bonds and Pujols.
Those concerns that the Braves dealt with in the postseason regarding their defense may not go away though. Baseball Info Solutions rates Uggla tied for the worst among second basemen in baseball in terms of defensive runs saved (a metric that measures ability to turn batted balls into outs and turn double plays) and he's rated among the worst in three of the last four seasons.
Historically, Uggla's biggest issue is fielding balls hit to the left of where the second basemen typically plays (the first base/second base hole), though he did improve from a minus-12 to a minus-6 in BIS's plus-minus rating (the batted balls into outs component of Runs Saved) on balls hit that way from 2009 to 2010, meaning that new first baseman Freddie Freeman may have some extra ground to cover.
Trading their top home run hitter is nothing new for the Marlins. Each of the top four players on the Marlins all-time home run list (Uggla, Mike Lowell, Miguel Cabrera, and Derrek Lee) have been traded away by the franchise during the prime of their careers. With 124 home runs, Hanley Ramirez is 30 behind Uggla's mark and can take aim in 2011.
Highest BA with RISP
since 2007, minimum 250 PA
Ramirez's new teammate, Infante happens to have a skill in which he ranks best in baseball at something. Last season, Infante hit .345 with runners in scoring position, and over the last four seasons, his .352 batting average in such situations is tops in the majors. The Marlins rated 16th among teams in 2010 with a .258 batting average with runners in scoiring position.
Last season, Infante played at least 15 games at second base, shortstop, third base and in the outfield, giving the Marlins a bit more versatility as well.
Dunn may also have some important value to a Marlins bullpen whose ERA jumped from 3.89 in 2009 to 4.01 in 2010 (in a year in which most ERAs decreased). In 19 innings, he struck out 27 (while walking 17) and he's shown the ability to get left-handed hitters out, holding them to 8-for-42 with 18 strikeouts and no home runs.