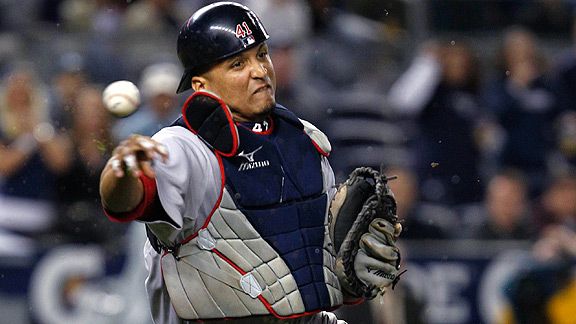 AP Photo/Kathy Willens
A move from catcher to DH is coming for Victor Martinez as part of his signing with the Detroit Tigers.
Earlier this week, we took a look at the Tigers signing of Victor Martinez and how his performance compared to that of Tigers catchers. But recent comments from general manager Dave Dombrowski indicate that he'll be used primarily as a DH.
That makes sense. According to Baseball Info Solutions, Martinez has cost his teams 47 runs combined during his career. In 2010, he allowed 99 stolen bases, while throwing out just 21 percent of base runners.
In the last three seasons, the Tigers production from their DHs has been limited, just as it has been from their catchers. In 2008 and 2009, their Wins Above Replacement (based on a weighted version of on-base average) totaled 0.3 and though that number jumped to 1.9 in 2010, it ranked about average (sixth-best) in the American League.
Over the last three seasons, Tigers DHs rank next-to-last in batting average, slugging percentage and OPS. So Martinez will be a huge upgrade there and his defense is a non-factor.
If Martinez isn't catching who is? Due to Gerald Laird's inability to hit (.207 BA, .263 OBP in 2010), highly-praised second-year man Alex Avila should see more time.
The most noteworthy stat for him in 2010: He threw out 32 percent of runners attempting to steal, fifth-best among the 31 players who caught 250 or more innings in 2010.
--Derek Czenczelewski
Huff winded by season's end?
While Aubrey Huff's 2010 season was very good, he regressed in the latter part of the year, suggesting the San Francisco Giants may have committed $22 million for two years on the basis of a very good first four months, for a team that happened to win the World Series.
Aubrey Huff, 2010 Season
What caused it?
Huff's biggest issue at the end of last season was that he had a lot of trouble with breaking pitches thrown by left-handers. The drop-offs were stark across Huff's entire stat line. From April-July, he swung and missed at about one of every four breaking pitches from a lefty. The rest of the season, he missed at one of every three.
When Huff made contact, the results were weak. His slugging percentage against those pitches from August 1 on was .278, nearly a 400-point drop from earlier in the year.
But the good version of Huff showed up again at just the right time. Huff got the biggest hit of the season against a slider from Braves' left-hander Mike Dunn, singling with two outs in the ninth inning to tie Game 3 of the NLDS. Turns out it may have been worth more than just a postseason win.
--Justin Havens and Mark Simon
Garland's durability covers potential issue
Jon Garland's ability to eat innings continues to allow him to find work, his latest employment coming from a one-year contract from the Los Angeles Dodgers. However, Garland continues to walk a very fine line. Among pitchers with at least 700 innings over the last four seasons, Garland's strikeout-to-walk rate of 1.64 is third-worst in baseball.
The Dodgers did pick up a durable pitcher, one who had a 1.71 ERA in Dodgers Stadium in three starts there in 2009. Garland and Chicago White Sox starter Mark Buehrle are the only two pitchers to throw 190 innings or more in each of the last nine seasons.
--Justin Havens
Put Down Your Dukes
While Garland may have pitched better than his peripheral numbers, new Arizona Diamondbacks starter Zach Duke pitched worse. The traditional stats say that Duke ranked last in 2010 among NL pitchers in ERA, opponents batting average and OPS.
However, a closer look at his peripherals (strikeout/walk rate, groundball rate, contact percentage, chase percentage, first-pitch strike percentage) reveal that he was a similar pitcher to the one that had a 4.06 ERA in 2009.
What changed from 2009 to 2010 that caused an ERA spike?
A .347 BABIP that was the highest in the NL and 51 points higher than his 2009 BABIP did significant damage. Duke had the fourth-highest home run rate (1.42), his percentage of flyballs that were home runs was 13.7, highest in the NL and significantly higher than his career rate of 10 percent.
Perhaps the most telling stat that indicates Duke can only improve is his 2010 xFIP of 4.48 –- an ERA-like metric based on strikeouts, walks and a normalized home run per flyball rate –- that was not far from his career mark of 4.40 and the 4.31 he posted in 2009.
--Katie Sharp