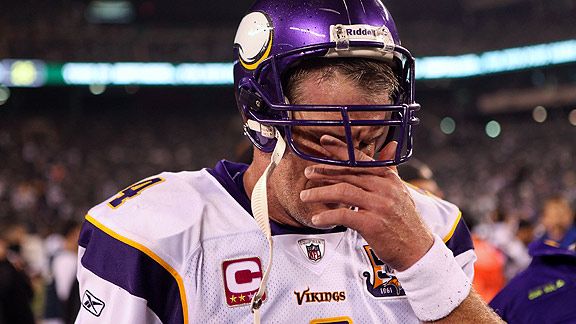 Andrew Burton/Getty Images
A shoulder injury has put an end to Brett Favre's NFL-record regular-season start streak at 297.
The date was Sept. 20, 1992.
That's the last time Brett Favre played but did not start a game in the NFL.
More than 18 years later Favre, finally, will sit one out.
With the announcement that Favre is inactive and will not play Monday against the New York Giants because of a shoulder injury, his NFL-record streak of 297 consecutive regular-season starts has come to an end. (Including the playoffs, Favre has started in 321 straight games.)
His streak of 299 consecutive games played has also come to an end. According to the Elias Sports Bureau, the only player in NFL history who has appeared in at least 300 consecutive regular-season games is punter Jeff Feagles, who played in 352 consecutive games from 1988 to 2009.
The last time Favre dressed, but did not play in an NFL game was Sept. 6, 1992, against the Minnesota Vikings.
• Also according to the Elias Sports Bureau, 238 other quarterbacks have started at least one game since Favre made his first start on Sept. 27, 1992.
• And one more from Elias. There are two active players who were on NFL rosters when Favre made his first start: kickers John Kasay and Jason Hanson.
• Cal Ripken Jr.'s streak of 2,632 consecutive games played was at 1,727 when Favre made his first start.