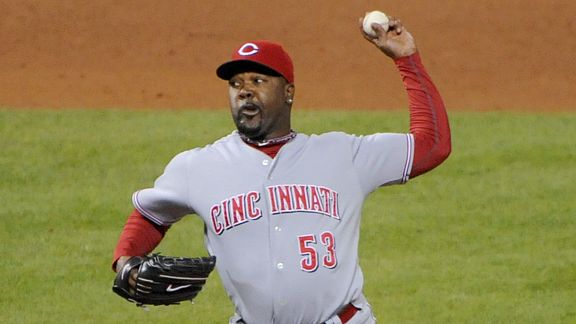 Howard Smith/US Presswire
Veteran southpaw Arthur Rhodes lives off his success against left-handed hitters
The response for both the New York Yankees and the Texas Rangers after being spurned by Cliff Lee was to sign a left-handed middle reliever. The Rangers choice was a pitcher who, for a time, was as effective in small doses as Lee was in lengthier ones, 41-year-old Arthur Rhodes. He agreed to a deal with them Wednesday.
Rhodes was outstanding during his two-year stint with the Cincinnati Reds, posting an ERA of 2.41 over 108 1/3 innings. With the help of Baseball-Reference.com, we discovered that Rhodes is one of four pitchers with back-to-back seasons of an ERA+ of 170 or better, with at least 50 innings pitched at the age of 39 or older.
Hall of Famer Hoyt Wilhem had eight such seasons, including five in a row from 1964 to 1968. Roger Clemens did it in 2005 and 2006. Mariano Rivera matched Rhodes with a pair of remarkable seasons in 2009 and 2010.
Rhodes has earned the chance to stay in the majors because he is a high-level lefty specialist. Opposing left-handers have a career .281 opponents on-base percentage against him, which ranks fifth-best among active left-handed pitchers who have faced at least 500 lefties (58 left-handed pitchers qualify, including Billy Wagner, who ranks second and is expected to retire). That's one point better than the Yankees lefty reliever pickup, Pedro Feliciano.
Over the last three seasons, he's been even better, dropping that number to .236. The only active pitchers better in that span are Hong-Chih Kuo, Neftali Feliz, Mariano Rivera, and Billy Wagner.
Arthur Rhodes
2010 Season
Rhodes allowed his share of hits against lefties last season (.214 opponent batting average), but when those batters didn't put the ball in play he was dominant, with 26 strikeouts and just one walk among the 89 lefties he faced.
He became the third pitcher over the last 35 seasons to strike out at least 25 left-handed batters while walking one or fewer. John Candelaria (34 strikeouts, no walks in 1985) and Dontrelle Willis (51 strikeouts, and only one walk in 2005) are the other two.
Rhodes tied a major league record with 33 consecutive scoreless appearances in 2010, matching a mark shared by Mike Myers (2000 Rockies) and Mark Guthrie (2002 Mets). But after that streak ended (June 28th), he wasn't the same pitcher.
The issue that Rhodes had once his scoreless streak ended was with his effectiveness against left-handed hitters. He allowed only one extra-base hit to the first 42 lefties he faced, but eight against the next 48.
Arthur Rhodes
Slider vs Lefties
The problem pitch was his slider. Rhodes' allowed only one extra-base hit with his slider to a lefty through June 28, but yielded two doubles and two home runs (including a walk-off to Phillies slugger Ryan Howard) to left-handed hitters with his slider after that. The issues with his slider made his fastball more hittable, and his performance with that pitch suffered as well.
The Rangers hope that Rhodes still has his best stuff. He closed the regular season with eight scoreless outings in his last nine appearances, stranding all four baserunners he inherited.
He'll also be able to impart a fair share of wisdom on the Rangers youngsters, such as Feliz, who could be making the conversion from reliever to starter. Rhodes, old enough to have pitched a shutout at Yankee Stadium in 1992 can speak well of that. He was starting games in the big leagues when Feliz was just three years old.