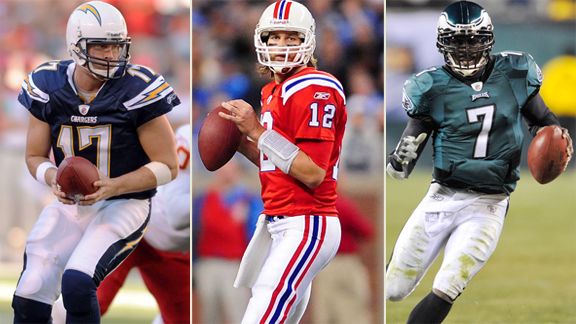 US Presswire
Philip Rivers, Tom Brady, and Michael Vick are among our Next-Level award winners for 2010.
For the second straight year, ESPN Stats & Information did video analysis of every NFL game, tracking a new collection of statistics and storylines. With the regular season now over, we wrap it up by recognizing the best of what these new stats had to offer. We unveil the 2010 NFL Next-Level Awards. This section covers quarterback play.
Like a Surgeon: Philip Rivers, San Diego Chargers
Best QB vs. four or fewer pass rushers
Rivers vs 4 or Fewer Pass Rushers
2010 Season
The enigma of the 2010 season may be how the San Diego Chargers and Philip Rivers established an elite passing game, yet finished the season with a mediocre record and no playoff bid.
After Rivers was named the best passer in the NFL against five or more rushers by ESPN Stats & Info a year ago, the Chargers quarterback compiled equally impressive numbers this season while facing a standard pass rush of four or fewer players.
Rivers led the NFL in completion percentage (70.3), passer rating (110.6) and yards per attempt (9.0) against standard pass pressure (min. 300 attempts), despite injuries that plagued his receiving corps and Vincent Jackson's contract dispute. While Tom Brady trails Rivers in most categories by a minimal margin, Rivers' yards-per-attempt average is over a yard and a half ahead of the Patriots quarterback (7.5).
After Rivers' success in 2009 facing added pressure, he showed excellence picking apart extra defenders in coverage in 2010, leaving opposing defenses in the dark on how to slow down the Chargers' passing game.
Sharpshooter: Tom Brady, New England Patriots
Best QB in shotgun formations
Pass Attempts per Interception
Shotgun Formation (2010 Season)
Tom Brady secured his place as the best quarterback in shotgun formations in 2010 by leveraging a unique array of receivers. Randy Moss was traded, Kevin Faulk was lost to injury and Wes Welker was coming off an injury.
By inserting two rookie tight ends (Rob Gronkowski, Aaron Hernandez), one running back claimed off waivers (Danny Woodhead), the re-acquired Deion Branch and the rehabilitated Welker, Brady had an arsenal of players capable of destroying defenses in a variety of ways.
Brady orchestrated a passing attack from the shotgun that did not have a traditional deep threat and did most its damage on passes within 20 yards of the line of scrimmage. Twenty-one of Brady's 23 touchdown passes from the shotgun were on passes thrown 20 yards or fewer.
In his last 11 games, Brady passed for 16 touchdowns and had no interceptions from the shotgun. Brady has not thrown an interception from the shotgun since Week 6 against the Ravens, a span of 207 attempts. He recorded a passer rating of at least 100 from the shotgun in 11 different games this season, including eight consecutive games down the stretch.
Escape Artist: Michael Vick, Philadelphia Eagles
Best QB outside the pocket
Most Yards per Pass Attempt
Outside the Pocket (2010 Season)
Michael Vick's development as a pocket passer elevated him into the MVP discussion this season, but the Eagles' signal-caller was still at his best when on the move. Among quarterbacks with 50 pass attempts outside the pocket, Vick was the only one to rank among the NFL's top four in completion percentage (55.6), passer rating (93.5) and yards per attempt (7.7).
Additionally, Vick's knack to run remained, as he led the league in scrambles (57), scramble yards (566) and first downs via scramble (23). Vick narrowly escaped with this award over some mobile competition in Matt Schaub of the Houston Texans (nine touchdowns, no interceptions outside the pocket), Sam Bradford of the St. Louis Rams (NFL-high 98 pass attempts outside the pocket) and Matt Ryan of the Atlanta Falcons (58.4 completion percentage, tops among quarterbacks with at least 50 attempts).
Cool Under Pressure: Matt Ryan, Atlanta Falcons
Best QB vs. five or more pass rushers
Matt Ryan vs 5 or More Pass Rushers
2010 Season
The Atlanta Falcons had one of the NFL's most balanced and potent offenses, and Matt Ryan was the catalyst that made the engine purr. Ryan lived up to his nickname "Matty Ice" by being cool under pressure.
When opponents tried to bring defensive heat, it was Ryan who melted the pressure and found the open pieces in his high-octane offense. This season, Ryan was the only quarterback to throw for more than 75 first downs while being sacked fewer than eight times when facing five or more pass rushers.
Other quarterbacks have thrown for more touchdowns and some have thrown for fewer interceptions, but it's the overall body of work that is impressive about Ryan and it's the fact that he did so well in so many areas that make him the coolest quarterback under pressure in 2010.
False Advertiser: Tom Brady, New England Patriots
Best QB when using play action
Best Play-Action TD-Int Differential
2010 Season
Tom Brady established himself as the premier play-action passer in the league, utilizing a blend of solid ball control and accuracy. This season, players threw a combined 90 interceptions when using play action; Brady accounted for none of these.
Brady was surgical this season, leading the league in completion percentage (70.7), passer rating (136.5) and attempts per touchdown (10.3) among quarterbacks with at least 100 play-action pass attempts.