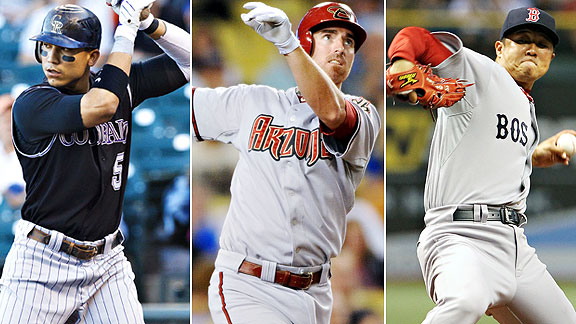 US Presswire
Carlos Gonzalez, Adam LaRoche, and Hideki Okajima have been among baseball's newsmakers over the last couple of weeks.
Some notes, stats and trends from our baseball research team on noteworthy major league moves since the holiday season.
The Colorado Rockies recently issued their second significant long-term contract this offseason, rewarding Carlos Gonzalez for his breakout 2010 season with a seven-year/$80 million deal.
Gonzalez set career highs in just about every meaningful statistic in 2010, leading to a third-place finish in the NL MVP vote.
While Gonzalez has established himself as a very talented player, certain aspects of his game indicate he was statistically fortunate to hit as well as he did in 2010.
Carlos Gonzalez
2010 MLB Ranks (Fangraphs.com)
When Gonzalez put the ball in play, his performance was tremendous. Gonzalez's .384 mark was the third-highest among players who qualified for baseball's batting title (502 plate appearances) and was nearly 60 points higher than his BABIP in his first two seasons.
Even a 30-point drop from his 2010 numbers would have a significant impact on his slashline (batting average, on-base percentage, slugging percentage) in 2011.
The rate at which Gonzalez's fly balls turned into home runs (20.4 percent, according to Fangraphs.com) was the seventh-best mark in the National League.
Over the last five seasons, only six players have posted a cumulative home run-to-fly ball mark of 20.0 or above – Ryan Howard, Jim Thome, Adam Dunn, Alex Rodriguez, Mark Reynolds and Prince Fielder. Through this deal, Gonzalez could perform at the same or similar rates to how he did in 2010, but statistically speaking, that won't be easy.
-- Justin Havens
LaRoche is a Second-Half Slugger
Perhaps the Nationals should have waited until after the All-Star game to sign Adam LaRoche who has a history of heating up in the second half of the season. LaRoche has posted a .766 career OPS before the break and a .889 OPS after the break.
Did You Know?
Adam LaRoche is one of just three first baseman to hit at least 20 homers and 25 doubles in each season since 2005. The others: Mark Teixeira and Albert Pujols
The 113-point gap in his first-half/second-half OPS is the fourth-largest differential over the last 50 years among players with at least 1,500 plate appearances both before and after the break.
However, last year LaRoche bucked the trend, with nearly identical marks (.787 and .788) in both the first and second half of the season, thanks to a near career-low .307 on-base percentage in the second half.
LaRoche's history is definitely that of a late-season slugger. In five of his seven seasons, his second-half slugging percentage exceeded his first half by at least 40 points.
-- Katie Sharp
Okajima needs to fix his fastball
The biggest key for recently re-signed Boston Red Sox lefty reliever Hideki Okajima in re-establishing himself as a good bullpen option is to improve the effectiveness of his two-strike fastball.
When Okajima threw something slow with two strikes, his results from 2008 to 2010 were both consistent and good. But the numbers when he tried to sneak an 87 mile-per-hour fastball by a hitter (whether a lefty or righty), changed dramatically last season.
Hideki Okajima
Results with 2-strike fastball
According to our Inside Edge video tracking data, Okajima gave up 21 hits and got 36 outs with two-strike fastballs last season.
In the previous two seasons (including postseason), he allowed 20 hits with his two-strike fastball (one fewer than 2010) and got 100 more outs-- 136
Okajima's opponents on-base percentage jumped by more than 200 points (.194 to .403). If Okajima had pitched to his 2008 and 2009 form, he should have allowed seven hits in these situations. He yielded three times that many last season.
-- Mark Simon