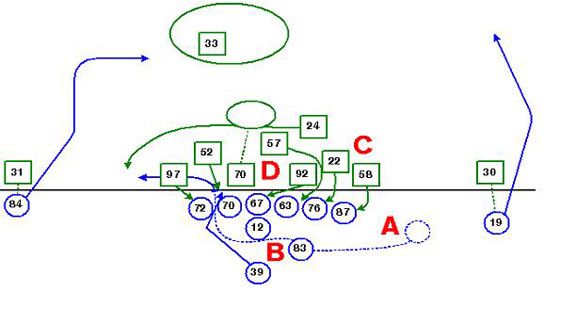 This week's edition of Chalkboard Stats examines a key play from the New England Patriots 45-3 victory over the New York Jets in Week 13.
The statistical tendencies displayed by each team suggest components of this play, a 35-yard reception by running back Danny Woodhead, could be important factors when these AFC East rivals collide again on Sunday.
Using the diagram above, let's take a closer look at the play and the accompanying statistical analysis.
A) Wes Welker begins the chain of events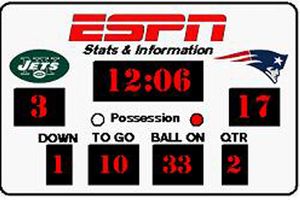 Welker (#83) motioned from the slot to the backfield, which created an offset I-formation with receivers Deion Branch (#84) and Brandon Tate (#19) split out wide. Jets cornerback Darrelle Revis (#24) mimicked Welker's movement, which resulted in a loaded box when Revis comes to rest.
The Patriots lined up in a one-back, three-receiver, one-tight end set, but Welker's motion into the backfield resulted in a formation in which they were more likely to run than they were before.
Welker's motion into the backfield gave him a better angle to engage David Harris (#52) briefly before he continued his route to the sideline. He cleared space on the right side of the field when Revis was brought into the box and eventually out to the left.
B) Play action brings Harris to the line
This play is one example of why Tom Brady was named the best play-action passer in the NFL, one of his two NFL Next-Level awards. Brady's play-action fake drew Harris close to the line and set him up for blocks from both Welker and Logan Mankins (#70), which separated Harris from eventual playmaker Danny Woodhead (#39).
Woodhead hit the hole between left tackle Matt Light (#72) and Mankins right behind the "fullback" Welker. Woodhead cut to the right after he hit the hole and found space vacated by the aggressive Jets pass rush while Harris was still contending with Mankins.
Most Yards per Reception
By RB vs Jets, 2010 Season
The Jets defended play-action passes well in the regular season. Only the Packers defense allowed a lower completion percentage (44.9) than New York's 47.2 percent, and opponents averaged only 5.9 yards per attempt (third-best in the NFL) against the Jets.
C) Patriots' O-line accounts for Jets' pass rushers
New England's offensive line picked up the blitz without a hitch. Tight end Rob Gronkowski (#87) and right tackle Sebastian Vollmer (#76) forced Bryan Thomas (#58) and Brodney Pool (#22) to the outside away from Brady. On the left, Light kept Calvin Pace (#97) at bay, and Mankins fended off Mike DeVito's (#70) token pressure before DeVito dropped into coverage.
After DeVito completed the zone blitz when he dropped into coverage, Mankins eliminated Harris from the play. When Jets lineman Shaun Ellis (#92) engaged center Dan Koppen (#67), right guard Dan Connolly forced linebacker Bart Scott (#57) off to the right with Thomas and Pool, which established a sound pocket for Brady to pass. Brady held the ball for approximately 3.1 seconds from snap to release, which is enough time for the offense to sell the fake, Woodhead to get out in the right flat, and Brady to deliver the throw.
D) The mismatch: Woodhead vs DeVito

WoodheadWhen each Jets pass rusher was picked up and Mankins sealed Harris off from the play, that left two players unaccounted for: DeVito, a 6-foot, 3-inch, 305-pound defensive lineman and Woodhead. DeVito's 40-yard dash time prior to the 2007 NFL Draft was 4.85 seconds, which is respectable for a defensive lineman but no match for Woodhead's 4.43 seconds.
Thirty-five yards later, Jets safety Eric Smith (#33) and cornerback Drew Coleman (#30) finally caught up with Woodhead. The Jets pass defense allowed more touchdowns against secondary pressure than any team in football this season, and their 7.9 yards per attempt allowed, when they blitzed at least one defensive back, ranked 28th in the NFL.