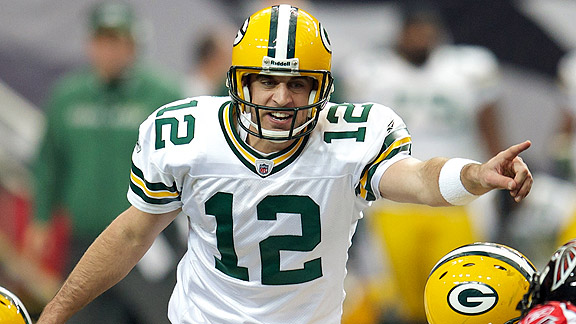 Dale Zanine/US Presswire
Aaron Rodgers has performed at a historic level in his first three postseason starts.
Green Bay Packers quarterback Aaron Rodgers has been outstanding through his first three career postseason starts. He's led the second and third highest-scoring performances by a road team in NFL postseason history.
But just how good is he?
Rodgers has thrown the most touchdown passes and accounted for the most total touchdowns by a quarterback in his first three postseason starts. Since 1960, four quarterbacks have had three or more playoff games in which they completed at least two-thirds of their passes, threw for at least three touchdowns, and had a passer rating of 120 or higher. Peyton Manning has four. Rodgers, Joe Montana and Kurt Warner each have three.
Compare that to how some of the greatest quarterbacks in recent NFL history did in their first three starts and you might notice that Rodgers is better than them in many ways.
Rodgers' postseason career probably best mimics Dan Marino. In his first career playoff start, Marino suffered a heartbreaking 27-20 loss to the Seahawks in a game in which the Dolphins had the lead in the fourth quarter. The next year, Marino led his team to the Super Bowl with two impressive playoff performances, including a 421-yard, four-touchdown game against the Steelers in the AFC Championship.
Rodgers has only reached the NFC Championship Game, but he is one win from advancing to the Super Bowl, which Marino did in his second season in the NFL.
Packers fans can see that he's far ahead of what Brett Favre did in his first three starts. But it's not just by a little bit.
He has twice as many touchdown passes, and averaged 57 more passing yards per game. Favre didn't get to the NFC Championship until his fifth season as a true starter. Rodgers is there now in his third season as the Packers starting quarterback. Keep in mind that Rodgers has yet to start a home playoff game. He's also doing that without his starting tight end in Jermichael Finley and Ryan Grant, who have both been out for the year due to injuries.
It may be too early to call him an all-time great, but through three games, Rodgers is building a resume that makes him one of the better big-game quarterbacks in the NFL.
Notables in First 3 Postseason Starts
The numbers for Aaron Rodgers match up very well against some of the NFL's all-time best quarterbacks, within the early part of their postseason careers. On this list, provided with the help of Pro-Football-Reference.com, Joe Montana and Tom Brady each won Super Bowls within their first 3 seasons. Will Rodgers be next?