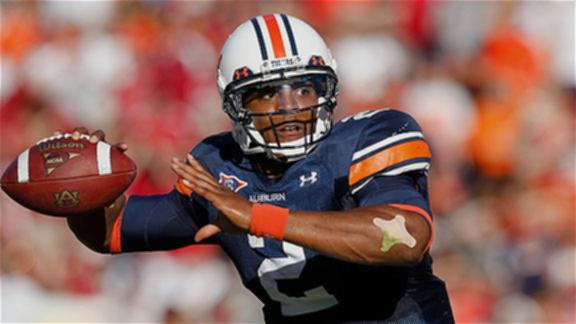 If he's drafted No. 1 overall, Cam Newton will do something that hasn't happened since 1950.
In their most recent mock drafts, Todd McShay and Mel Kiper Jr. are projecting that the Carolina Panthers will select Auburn quarterback Cam Newton with the first overall pick in this year's NFL Draft. Despite an uneven performance at the combine and questions about his off-the-field ambitions, Newton has steadily climbed Kiper's and McShay's draft boards since mid-January, when both had him going 10th to the Washington Redskins.
Four months after winning the Heisman Trophy and three months after leading Auburn to a national championship, Newton is on the verge of having his named called first on draft day. If so, Newton will be the first player selected first overall the year after winning a Heisman Trophy and national championship in more than 60 years. In fact, only two players have ever been drafted first the year after winning a Heisman and national title: Leon Hart in 1950, and Angelo Bertelli in 1944.
Both Hart and Bertelli starred at Notre Dame. Hart dominated on both sides of the ball for Notre Dame's 1949 national championship team before being taken No. 1 overall by the Detroit Lions in the 1950 NFL draft.
Bertelli won the Heisman in 1943, despite appearing in only six games before entering the Marine Corps. The quarterback was drafted by the Boston Yanks first overall in 1944, but elected to join Los Angeles Dons of the All-America Football Conference after completing his service in World War II.
Heisman Winners Drafted By Round
Common Draft Era (Since 1967)
While a player going No. 1 the year after winning a Heisman and national title is rare, Heisman Trophy recipients have been drafted first overall 18 times. If Newton is the first player off the board, then it will be the second straight year a Heisman winner was the top pick in the draft. (The St. Louis Rams picked Sam Bradford first in 2010.) The last time Heisman winners were drafted No. 1 overall in consecutive years was 1986-87, Bo Jackson and Vinny Testaverde. Oddly enough, Jackson was drafted in both years. The Raiders selected Jackson 183rd overall in 1987 after he opted to play baseball instead of signing with the Tampa Bay Buccaneers in 1986.
Of course, Newton isn't the only Heisman Trophy winner who will be drafted. Alabama running back Mark Ingram (the 2009 Heisman winner) is expected to hear his name called sometime during the first round. The 2011 draft will be the third time since 2006 that there have been a pair of Heisman winners selected in the same draft: Bradford and Tim Tebow went in the first round last year; Reggie Bush and Matt Leinart both were top 10 picks in 2006.
Prior to that, multiple Heisman Trophy recipients hadn't been picked in the same year since 1992 (Desmond Howard, Ty Detmer).