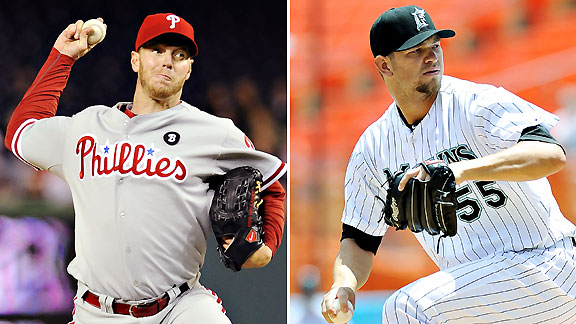 US Presswire
Expect runs to be at a premium tonight in Florida with Halladay and Johnson on the mound.
Two of the game's best pitchers face off Tuesday in Florida when Josh Johnson and the Florida Marlins host Roy Halladay and the Philadelphia Phillies.
Combined, Johnson and Halladay are allowing fewer than four earned runs per game (1.68 and 2.19, respectively).
This will be the fourth meeting between the two aces. They pitched against each other once when Halladay was with the Blue Jays and twice last season, including Halladay's perfect game on May 29. The Phillies won that game 1-0, only the sixth 1-0 perfect game in major-league history.
Lowest FIP This Season
Fielding Independent Pitching (FIP) is an ERA estimate based on three areas over which a pitcher has the most control: strikeouts, walks and HR allowed. Despite having a worse ERA than Johnson, Halladay leads the major leagues in FIP.
Johnson was the losing pitcher in that game, but in his three starts against Halladay, he's allowed one earned run in 20⅔ innings.
Johnson and Halladay rank among the top pitchers in the National League in multiple statistical categories: Halladay has allowed the fewest HR per 9 innings pitched, and ranks second to teammate Cliff Lee in strikeout-to-walk ratio. Johnson has the lowest WHIP, and each ranks in the top 10 in ERA.
Each enters the game with a loss this season, so they are beatable. However, if you're going to get to either Halladay or Johnson, it's not going to be at the start of the game. The two right-handers are among the best when it comes to the first three innings, combining to allow just three earned runs and striking out 50. In the third inning, opponents are 0-for-20 against Johnson.
Johnson will be facing a Phillies lineup that could feature seven left-handed hitters (including switch-hitters). Lefties Ryan Howard, Raul Ibanez and Brian Schneider have combined to hit 12 home runs. However, Johnson's been strong against lefties this season, allowing 14 hits -- none of which have left the ball park -- in 85 at-bats.
One key to Halladay's success this season has been his ability to keep the ball down. A potential reason: Halladay has increased the use of his changeup from 13.4 percent (about once every eight pitches) over the past two seasons to 27.6 percent (about once every four pitches) this season. This has resulted in his opponents' batting average to drop from .221 to .153 in at-bats that end with the pitches down in the zone.
Halladay was 4-1 against the Marlins last season, striking out 41 and walking two in 38 innings. He's 3-0 with a 1.46 ERA in his past three starts with 32 strikeouts and two walks.
In 19 starts at home since the start of last season, Johnson is 9-3 with a 1.52 ERA. He's allowed just three home runs in 130 innings with 151 strikeouts and 27 walks. Hitters leading off an inning are 4-for-48 with two walks against Johnson this season.