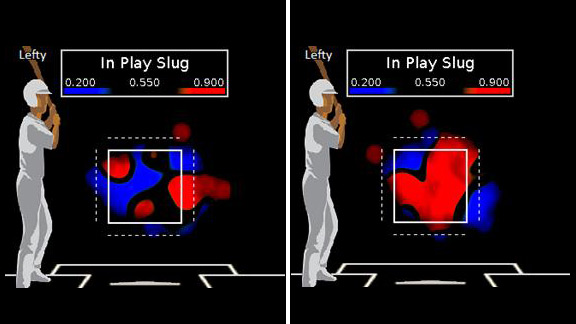 The right heat map shows just how much Curtis Granderson has improved against fastballs from left-handed pitching since he changed his swing last August.
Curtis Granderson ranks second only to Jose Bautista this season with 17 home runs, and also leads the New York Yankees in RBI (41) and OPS (.960). The center fielder is hitting a home run once every 12.3 at-bats, and is on pace to hit 51. (His career-high is 30 in 2009, his last season with the Detroit Tigers.)
Granderson's power surge coincides with a swing change he made last August. He worked with hitting coach Kevin Long to shorten his swing and simplify his approach. The result has been an increase in power and much more success against left-handed pitchers.
After struggling throughout his career against left-handed pitching (career .213 batting average entering this season), Granderson actually has a higher average against left-handers than righties in 2011. Against left-handed pitching, Granderson leads all of baseball with nine home runs and is hitting one every 7.3 at-bats. Against right-handers, he's hitting a homer once every 17.9 at-bats.
Curtis Granderson This Season
Why is Granderson having success against left-handers? One reason is that he's hitting fly balls with more power since his swing change. In the first 54 games of 2010, he hit 23 fly balls against lefties, but only one of those left the park. Through 54 games this season, Granderson has hit 25 fly balls, but has been hitting home runs with much more frequency.
Since changing his swing on Aug. 12, 2010, Granderson has hit 31 home runs. That's the third-most behind Bautista (39) and Jay Bruce (32). His HR/Flyball rate has increased from 9.6 percent to 22.1 after the change. (The league average was 10.6 percent in 2010.)
Granderson's performance on fastballs against lefties is another reason for his power surge. When he's seen fastballs this season from left-handed pitchers, Granderson is hitting .385 with a slugging percentage of 1.000.
In his time with the Yankees, Granderson's increased his slugging percentage on fastballs from left-handed pitchers from .422 before the swing change to .797 after the switch. He was hitting a home run once every 64 at-bats on these pitches before the swing change, but now is hitting a homer once every 7.7 at-bats since altering his swing.