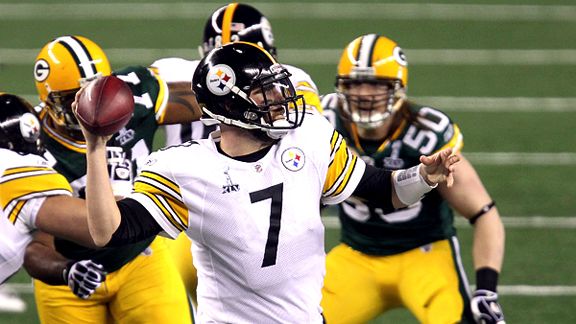 Mike Ehrmann/Getty Images
Ben Roethlisberger thrives under pressure
After capping a stellar season with a subpar performance in Super Bowl XLV, it's understandable if James Harrison and the rest of the Pittsburgh Steelers are less-than-happy about the way the 2010 season ended.
But after James Harrison's comments to Men's Journal, it's tough to imagine the mood will be any lighter when Steelers training camp opens this summer. Speaking of teammate Ben Roethlisberger's play in Super Bowl XLV, Harrison said:
"Hey, at least throw a pick on their side of the field instead of asking the D to bail you out again. Or hand the ball off and stop trying to act like
Peyton Manning. You ain't that and you know it, man; you just get paid like he does."
It's doubtful that the fact that Roethlisberger's second interception of the game came on a play that started on the Packers 49-yard line, technically "their side of the field" will make Harrison reconsider his comments.
Ben Roethlisberger
In Own Territory Last Season
But Big Ben's unparalleled ability to lead the Steelers out of their own territory in the regular season should.
In 2010, Roethlisberger not only didn't ask the Steelers defense to bail him out frequently, he was arguably the best quarterback in the league at helping his team reverse field position when backed up against its own goal line.
Roethlisberger completed 147 of 204 passes for 2,094 yards with three TDs and three interceptions in his own territory last season. His 103.7 passer rating here is even more impressive when one considers the difficulty in throwing touchdowns on plays that originate at least 51 yards from the end zone.
Of the 33 quarterbacks who threw at least 100 passes in their own territory last regular season, none had a better passer rating on those attempts than Roethlisberger, and his 10 yards per attempt on these passes was also best in the NFL.
Just three of Roethlisberger's 204 passes from his own end were intercepted last season, an interception percentage of 1.47 percent. Only three of the 33 QBs mentioned above had a lower interception of percentage in their own territory – Josh Freeman, Tom Brady and Alex Smith.
In Own Territory Last Season
Harrison also made the comment that Roethlisberger is trying to emulate Peyton Manning with his play in his own territory. In fact, he's been much better than the Indianapolis Colts future Hall-of-Famer in such situations.
Twelve of Manning's 17 interceptions last season came on the Colts side of the field, more than all but three other NFL quarterbacks. And Manning's passer rating in his own territory was 78.4, a full 25 points behind Big Ben's.
The stats show that Roethlisberger has been a better quarterback than Manning in his own territory. If Harrison is tired of his defense being asked to bail out the Steelers offense time and time again, he should be thankful that Ben is no Peyton. He's only paid like him.