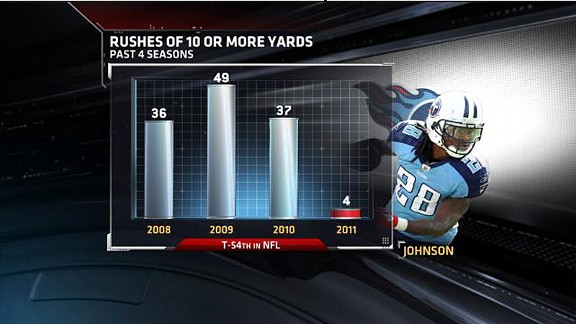 Chris Johnson's 2011 performance has been a huge drop-off from recent successes
Tennessee Titans running back Chris Johnson rushed for 2,006 yards in 2009, averaging 5.6 yards per rush. This season, Johnson is averaging half that, picking up just 2.8 yards per rush on 107 attempts.
What is particularly alarming for Johnson, who staged a preseason holdout before signing on September 1, is how much he's declined.
Chris Johnson
Pct Rushes with 7 or Fewer in the Box
From his rookie season in 2008 to 2010, Johnson was one of the most explosive running backs in the NFL. Johnson averaged nearly 2.5 rushes per game of at least 10 yards during that stretch, including an NFL-best 49 in 2009.
If he'd maintained that rate through the first seven games of the 2011 season, he should have 18 such rushes. He has only four. His backup, Javon Ringer, has five rushes of at least 10 yards in 72 fewer attempts.
The lack of big plays could be a result of limited work after contact. Johnson is averaging 1.3 yards per rush after contact this season. Only Thomas Jones (0.9) is doing worse among the 28 running backs with at least 50 attempts.
Johnson may also be hitting holes slower than usual. Johnson is averaging 1.5 yards per rush before contact, fifth-worst among rushers with 50 attempts. Johnson only leads Montario Hardesty, Deji Karim, Bernard Scott and Peyton Hillis in this category.
Opposing defenses have taken notice of Johnson's struggles and are game-planning him differently this season. As Johnson's career has progressed, opponents have used pre-snap sets of seven or fewer defenders more often. Johnson has only 12 rushes this season with eight or more defenders in the box.
Roughly 11 percent of Johnson's rushes this season have been against a loaded box -- when there are more defenders in the box than there are available blockers on offense. From 2008-10, almost twenty percent of his rushes were against loaded boxes.
In the history of the NFL, only six players have rushed for 2,000 yards in a single season, including Johnson. Of those running backs, none have averaged fewer than 3.0 yards per rush in any season in their career.
The worst season by a 2,000-yard rusher (minimum 100 rushes), was by Eric Dickerson in 1991. Dickerson averaged 3.2 yards per rush on 167 attempts for the Colts that season, seven years removed from his 2,105-yard season in 1984. Johnson is in danger of chasing that mark just two years after rushing for 2,006 yards.