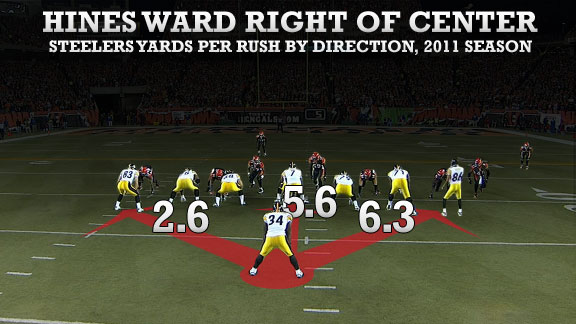 ESPN Stats & Information
The Steelers have found success running behind Hines Ward this season
Hines Ward left the Pittsburgh Steelers game against the Baltimore Ravens with concussion-like symptoms after getting hit by Ray Lewis. His status for this Sunday's game against the Cincinnati Bengals is up in the air.
If Ward is unavailable to play, it may have a greater impact on the Steelers' running game than it does on its passing game.

WardWard has struggled with injuries this season and is averaging just 32.3 receiving yards per game. Since his second season in the NFL, Ward has never finished with a lower average per game.
But what does the loss of arguably the league's best blocking receiver mean to the Steelers' running game?
The Steelers tend to run in Ward's direction regardless of which side of the field he is lined up on. When lined up on the right side of the field, Steelers running backs have rushed to the right or middle of the field 89.3 percent of the time this season. Likewise, when Ward lined up on the left, 73.8 percent of runs went to the left or middle.
According to the Elias Sports Bureau, since 2007 the Steelers have averaged 119.4 yards per game when Ward plays. In 8 games without Ward in that span, they have averaged 101.0.