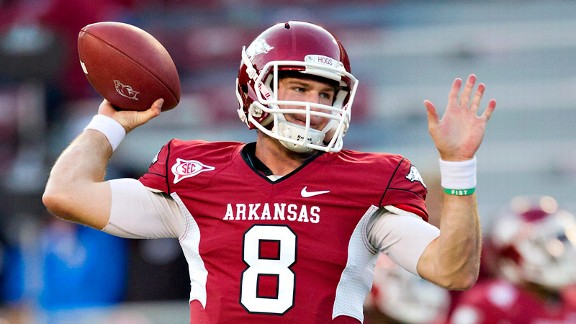 Wesley Hitt/Getty Images
Tyler Wilson's ability against the blitz will be tested on Friday against No. 1 LSU.There are a number of interesting dynamics that come into play when looking at the matchup between the No. 3 Arkansas Razorbacks and No. 1 LSU Tigers.
Two that could be huge for the Razorbacks in attempting to beat the No. 1 team in the country and clinch the SEC West (needing an Alabama loss too) are how many big plays Arkansas is able to hit against LSU's defense, and how successful Arkansas is at handling LSU's blitz.
Here's a closer look at those two factors via our video review data.
The Big Play
Arkansas has 48 completions that gained 20 yards or more this season, 15 more than any other SEC team.
Most Completions For 20+ Yards
SEC Teams This Season
The Razorbacks have had at least three such plays in every game this season, except for their lone loss to Alabama.
It was big plays that aided the Razorbacks in last season's win against LSU.
Arkansas scored touchdowns on passes that gained 85, 80 and 39 yards and all were on throws that traveled 20 yards or more in the air.
It was the only game in the last eight seasons that LSU allowed three or more touchdown passes that all gained at least 25 yards and it was the only game during that time period that it allowed at least three touchdowns on throws of 20 yards or longer.
This season, LSU has held opponents to a completion percentage of 12.2 on throws of 20 yards or longer this season.
The Tigers have more interceptions (7) than their opponents have receptions (5) on those passes and only Mississippi State has completed more than two such passes in a game. Tigers opponents are 5-for-41 with 18 straight incompletions on such throws.
The Blitz
Arkansas quarterback Tyler Wilson is completing 65.2 percent of his passes when opponents send five-or-more pass rushers on a play this season.
Wilson has only thrown two interceptions in 115 attempts against the blitz this season, none in his last 50 attempts.
He's been even better the last two weeks, completing 4-of-5 against the Tennessee blitz, and 17-of-18 (the only incompletion was on a dropped pass) against Mississippi State.
LSU 3rd Down Pass Defense
2011 Season
In those two games, he's thrown for a combined 198 yards with five touchdowns and no interceptions.
The key in watching LSU's blitz will be on third down. LSU is the only team in FBS that has not allowed a touchdown pass on third down this season.
LSU sends five or more pass rushers on nearly 40 percent of its opponents' dropbacks on third down this season and it has been much more successful when bringing the pressure, allowing opponents to complete only 43 percent of their passes.
As noted in the chart on the right, opponents have converted third downs at a rate of one of every four when LSU blitzes, one of every three when LSU doesn't.
Stats of the Day
Arkansas has consecutive 10-win seasons for the first time since 1988-89 under Ken Hatfield. The Razorbacks can tie the school record for wins in a season, 11, set in 1964 and 1977.
LSU is looking for its first 12-0 start in school history. The Tigers are currently 11-0 for the first time since the 1958 national championship team finished the season 11-0.