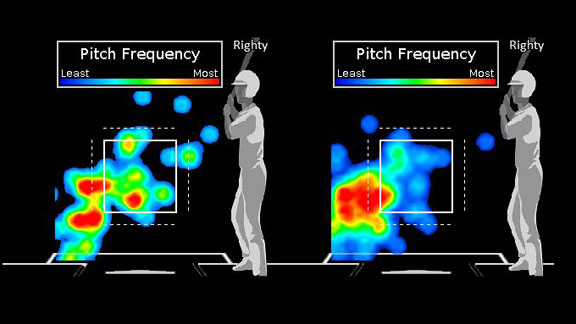 Left: Where Joe Nathan located his slider to right-handed hitters prior to his midseason DL stint
Right: Where he located his slider to right-handed hitters after returning from DL
Click here to create your own Nathan heat maps
Each Sunday, ESPN Stats & Information reviews significant moves from the past week.
Rangers sign Joe Nathan: 2 years, $14.5 million
The Texas Rangers must have liked what they saw from Joe Nathan's last three months with the Minnesota Twins in 2011.
The key to Nathan's improved performance after coming off the disabled list in late June (he missed a month with a muscle strain) was a much more effective slider.
Joe Nathan in 2011
In his first 17 appearances back from Tommy John Surgery, Nathan's slider was flat, averaging 1.5 inches of vertical break. Hitters weren't fooled, going 4-for-20 while missing on only one of every four swings.
After a month on the disabled list, Nathan returned with a slider that was nearly unhittable.
Batters managed just two hits in 35 at-bats (.057) and whiffed on almost half of their swings in his final 31 appearances.
The vertical break on his slider nearly doubled to 2.8 inches during this stretch, and of the 18 sliders put in play, not a single one was classified as "well hit" by video scouts at Inside Edge.
Nathan has a good history against the Rangers current AL West opponents, converting 43 of 48 save chances for his career against the Seattle Mariners, Los Angeles Angels, and Oakland Athletics.
In 83 innings against those three teams, he's allowed just 10 earned runs, and his WHIP against each is 0.85 or lower.
--Katie Sharp and Michael Bonzagni
Pirates sign Clint Barmes: 2 years, $10.5 million
Amazingly, this deal was the Pirates first free-agent signing to a contract with a total value of at least $10 million since inking third baseman Steve Buechele for four years and $11 million in the 1991-92 offseason.
Most Defensive Runs Saved
Shortstops in 2011
What did the Pirates get for their investment in Barmes?
Barmes had 12 Defensive Runs Saved last season, four more than Ronny Cedeno had in nearly the same number of innings.
The major difference in their performance was in Barmes' success rate at turning double plays.
Barmes converted double plays at a 66 percent rate. Cedeno converted 59 percent.
Offensively, Barmes had a .141 isolated power last year, seventh-best among shortstops (min. 400 PA). All 12 of his homers went over the left-field fence last season and 40 of 43 have since 2009.
He'll be challenged to retain that home-run power as a Pirate. Minute Maid Park in Houston boosted homer production by seven percent for right-handed batters in 2011.
PNC Park deflated right-handed batters' home runs by 16 percent over the last three seasons, according to ballpark factors from Baseball Info Solutions.
--Katie Sharp
Marlins trade Josh Baker to Padres for Wade LeBlanc
The Florida Marlins attempt at adding depth to their starting rotation netted them a pitcher with previous big-ballpark success.
Highest Line Drive Rate Allowed
LHP vs Left-Handed Hitters
LeBlanc succeeded in PETCO Park, where he had a 2.97 career ERA, but had a 6.16 ERA in his road appearances since debuting in 2008.
The 3.19 difference between road and home is the largest for any pitcher who pitched at least 100 innings in the last four seasons, and is largely due to LeBlanc's rate of home runs allowed (one every 5.4 innings on road, every 8.7 innings at home).
Leblanc, a lefty, has two issues that the Marlins staff will look to fix. One is a cutter that got 48 outs and allowed only 14 hits against right-handed hitters, but got just 10 outs and yielded 11 hits to lefties.
The other is that his stuff is simply too hittable. Left-handed hitters were 29-for-61 when making contact against LeBlanc last season. Of the 60 balls that lefties hit that stayed in the ballpark, nearly half (28 of them) were classified as line drives.
LeBlanc's 47 percent line drive rate versus lefties last season was the worst in the majors.
-- Mark Simon