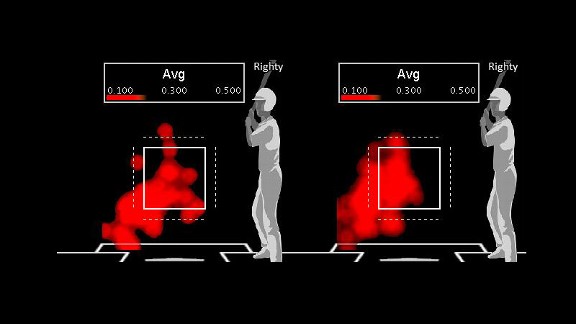 Left: Where Mat Latos got right-handed hitters out with his slider (first half: 31 outs)
Right: Where Latos got right-handed hitters out with his slider (second half: 53 outs)
Click here to create your own Latos heat mapsThe Reds paid a significant price to add a young starting pitcher to their rotation with the acquisition of Mat Latos from the San Diego Padres.
What are they getting for a package that included top prospects Yonder Alonso and Yasmani Grandal?
Reds GM Walt Jocketty described Latos as an elite pitcher, one capable of being a No. 1 starter.
Why would he say that? Let's take a closer look:
What is FIP?
Definition
Latos went 9-14 last season, but his ERA was a very respectable 3.47. The 14 defeats tied the second-most losses by a pitcher whose ERA was 3.50 or lower last season (free agent Hiroki Kuroda led the majors with 16), and was the most losses by a Padres pitcher among players who had an ERA of 3.50 or lower since Bob Shirley, who went 8-16 with a 3.38 ERA in 1979.
Latos' strikeouts, walks and home runs allowed were indicative of a pitcher who may have pitched better than his numbers indicated. Latos had a 3.16 FIP (Fielding Independent Pitching), a stat scaled similar to ERA, based on those three factors.
That was tied for 11th-best among the 75 National League pitchers who pitched at least 100 innings last season.
Latos put up very similar numbers home and away in 2011. His FIP was 3.06 at home and 3.26 on the road, and he actually allowed more home runs per nine innings in spacious PETCO Park than he did in road appearances. His career FIP split is 3.25 at home, 3.30 on the road and his 1.15 WHIP is the same in both areas as well.
Latos was a much improved pitcher in the second half of the season, a time in which he changed his approach slightly.
Mat Latos vs RHB (2011)
Latos increased the use of his slider and reduced the use of his curveball, particularly against right-handed hitters, coaxing hitters to chase pitches on the outside part of the plate and out of the strike zone.
Just over half of his outs with the slider against right-handers were located away prior to the All-Star Break. Nearly 80 percent of them were afterwards.
Latos increased his outs-to-hits ratio with that pitch to right-handed hitters from 6-to-1 prior to the break to better than 10-to-1 after it.
That led to an 83-point batting average drop overall for right-handed hitters against him and an overall drop in ERA from 4.04 to 2.87 from before the break to afterwards.
By season's end, Latos' .123 batting average allowed on the pitch and his miss percentage of 49 percent against all hitters both ranked second-best among the 90 starting pitchers that threw at least 300 sliders, thus making him a desired target of teams this offseason.