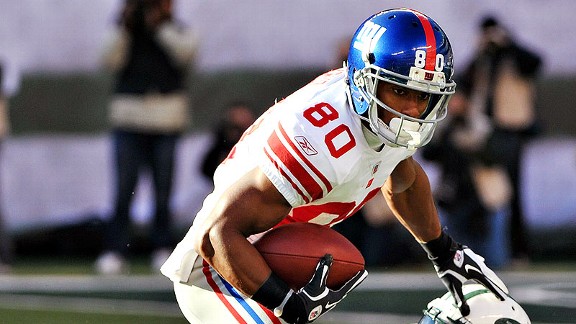 Christopher Pasatieri/Getty Images
Victor Cruz's touchdown reception was the second of its kind in the NFL this season.
A big play made for a big win for the New York Giants on a day where little went right for either them or the New York Jets.
Victor Cruz's 99-yard touchdown reception was the turning point of the contest. It was the 14th offensive touchdown of 99 yards in NFL history (Tony Dorsett had a 99-yard touchdown run; the other 13 were passing plays).
Wes Welker had a 99-yard touchdown catch earlier this season for the New England Patriots, making this the first season in NFL history with two 99-yard touchdown receptions.
The last eight teams to have a 99-yard touchdown reception in a game all won.
Brandon LaFell had a 91-yard touchdown reception for the Carolina Panthers, making this the first day in NFL history in which two different players had touchdown receptions of at least 90 yards.
Cruz had 89 yards after the catch on his 99-yard touchdown reception late in the first half. It was the most yards after the catch a player has had on a single reception since Week 1 of last season (Matt Forte, 91 yards).
Team Completed No More Than 1/3 Of Passes
Won Game (2011 Season)
Elias notes that the only other day with two touchdown passes of 90 or more yards was December 11, 1989, when Joe Montana of the San Francisco 49ers connected on a pair with wide receiver John Taylor).
Cruz set the franchise record for receiving yards in a season and joined Del Shofner as the only other Giants receiver with six 100-yd receiving games in a single season.
This was an unusual game from a statistical perspective in a number of ways.
Eli Manning guided the Giants to a win, despite a 9-for-27 afternoon. He's the second quarterback this season to win a game in which he completed no more than one-third of his passes (minimum 25 attempts), along with Baltimore Ravens quarterback Joe Flacco. He did so against the Jets in Week 4.
Manning finished with nine completions and 225 yards.
A check of Pro-Football-Reference.com shows that the last quarterback to complete no more than nine passes and throw for at least 225 yards was Trent Dilfer for the Seattle Seahawks against the St. Louis Rams (eight completions, 232 yards) in 2002.
The Giants won despite allowing more than twice as many first downs (21) as they got (10). The Giants had been allowing opponents to convert 54 percent of third downs since Week 11, but held the Jets to just four successes in 21 attempts.
Mark Sanchez had a career-high 59 pass attempts, but the Jets passing game posed little threat. Sanchez completed more passes to Giants defenders (two) than his own receivers (none) on eight attempts that traveled at least 15 yards from the line of scrimmage.
When Sanchez wasn't throwing downfield, the Giants were causing trouble with six passes batted down at the line of scrimmage and five sacks.
The six bat-downs were one shy of the number that both Sanchez and the Giants had this season, entering the game. In fact, 16 NFL defenses had six or fewer bat-downs all season entering Sunday.