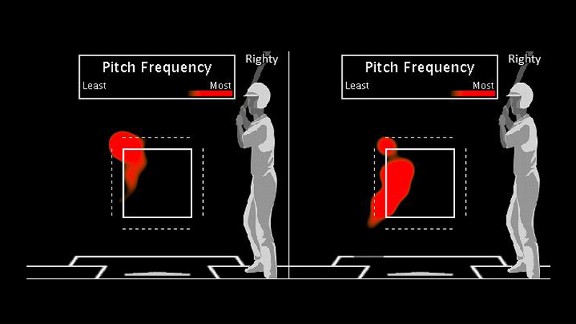 Left: Most frequent locations for Michael Pineda's fastball strikeouts (52)
Right: Most frequent location for Pineda's slider strikeouts (47)
Click here to create your own Pineda heat maps
It was a surprisingly busy late Friday night in the majors, with the New York Yankees and Seattle Mariners swinging a major swap of highly regarded prospects. The Yankees added on to that by signing a notable free-agent starting pitcher.
Let's take a closer look at these moves.
What the Yankees Got: Michael Pineda
In obtaining right-hander Michael Pineda, the Yankees got a pitcher who looked very promising early in the season, then statistically faded at the end of 2011.
Pineda was 8-6 with a 3.03 ERA prior to the All-Star break, 1-4 with a 5.12 ERA after the All-Star break. The primary culprit was his home run rate, which went from one allowed every 11.3 innings to one every 7.3 innings afterwards.
Tale of the Tape
CC Sabathia vs. Michael Pineda
Pineda was also considerably better in Safeco Field, a pitcher-friendly park. He was 5-4 with a 2.92 ERA and .182 opponents' batting average there last season, 4-6 with a 4.40 ERA and .234 opponents' batting average on the road.
Pineda's fastball averaged nearly 95 mph, tied for the fifth-fastest average velocity among starting pitchers in the majors. Hitters missed on 20 percent of their swings against that pitch, also the fifth-best among starters.
That helped Pineda hold right-handed hitters to a .184 batting average, the best of any pitcher who faced at least 200 right-handers last season.
Pineda made nine starts against the AL East last season and he got hit pretty hard, posting a 4.73 ERA and allowing eight home runs in 53 1/3 innings.
What the Yankees Got: Hiroki Kuroda
Kuroda finished ninth in the National League last season with a 3.07 ERA, but was second in the league with 16 losses. That was partly due to making 13 starts in which the Dodgers scored two runs or fewer.
Most Losses
Last 2 Seasons
The Yankees' offense figures to provide more support. The Yankees were second in the majors last season with 867 runs scored.
One of Kuroda's trademarks is pinpoint control. Over the last three seasons, he's walked an average of 2.1 hitters per nine innings, tied for the 10th-best rate in the majors in that span.
Kuroda relied on getting batters to swing at his pitches out of the strike zone in order to get outs. Hitters chased 31 percent of pitches thrown out of the zone, which ranked seventh among 81 qualifying NL starters, and he retired 71 percent of the batters that swung at a pitch out of the strike zone, the eighth-best rate in that group.
Kuroda allowed 24 home runs last season, the most he's allowed in any season. He now moves home ballparks from Dodger Stadium, which was 6 percent harder for a hitter to homer in than the average ballpark over the last three seasons, to Yankee Stadium, the second-most friendly home run park in the majors since 2009 (31 percent more homer-friendly than average).
What the Mariners Got: Jesus Montero
The Mariners get one of the most highly regarded young prospects in baseball.
They were a team in great need of power. The Mariners ranked last in the majors in batting average (.233), slugging percentage (.348), OPS (.640) and runs scored (556), and were sixth-worst in home runs (109).
The 2011 Mariners had the lowest batting average in the majors in the DH era (since 1973) in a non-strike season, breaking the mark set by the 1976 Angels (.235).
Lowest BA
AL Teams, DH Era (since 1973)
Montero has significant power potential (.590 slugging percentage, four home runs in 69 plate appearances in 2011) but the right-hander will find it difficult to replicate that power in his new home park, Safeco Field.
According to the ballpark factors referenced earlier, over the last three seasons (2009-11), it was 25 percent harder for a right-handed batter to homer at Safeco than at the average ballpark (park factor of 75, ranked 13th in AL).
At Yankee Stadium, it was 17 percent easier for a right-handed batter to homer (park factor of 117, ranked 4th in AL).
Montero showed plenty of power to the opposite field last season, hitting three of his four home runs to right field after his recall But it's worth noting that of the 49 home runs hit to right field at Safeco in 2011, only three were hit by right-handed batters.