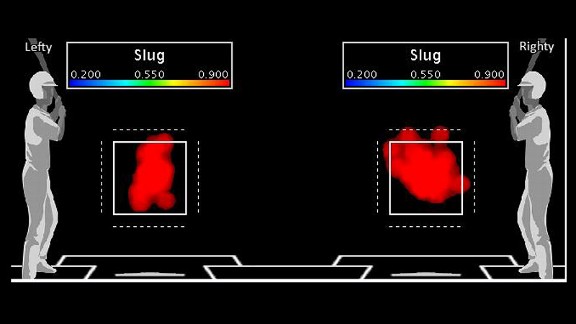 A.J. Burnett allowed 31 home runs last season.
Here's a look at where those pitches hit for home runs were located.
Click here to create your own Burnett heat mapsA.J. Burnett is on the verge of going from the franchise with one of the best marks in baseball over the last two decades to the one with one of the worst.
Yankees and Pirates Since 1993
The New York Yankees have had 19 straight winning seasons, including three with Burnett. The Pittsburgh Pirates have had 19 straight losing seasons. Their last winning season came in 1992, when now-retired pitcher Tim Wakefield was a rookie.
Burnett's career with the New York Yankees ends with the following distinctions:
• Among those who pitched at least 500 innings with the Yankees, Burnett has the second-highest career ERA (4.79), the second-highest HR per 9 rate (1.25), the second-most wild pitches (58) and the fifth-worst opponents OPS (.783).
• Burnett's fastball velocity declined from an average of 94.1 miles-per-hour in 2009 (his first season with the Yankees) to 92.6 in 2011.
Most Strikeouts with Curveball
2011 Season
• In 2009, about one in every five Burnett pitches registered 95-miles-per-hour or faster on Pitch F/X's radar-gun readings. In 2011, that rate was one in every 250 pitches.
When Burnett did throw a fastball over 95-miles-per-hour, he only got misses on about one of every eight swings, a miss rate that rated third-worst in the majors over the last three seasons (among 77 pitchers who met the criteria of at least 500 such pitches).
Burnett did strike out 8.2 batters per 9 innings last year, which ranked 10th among American League pitchers who qualified for the ERA title (ie: minimum 162 innings pitched).
Burnett also led the majors in strikeouts with his curveball with 123.
Burnett's new team, the Pirates, had the worst strikeout rate in the majors last season (5.6 per 9 innings). The Pirates also got the second-fewest innings from starting pitchers in the majors last season- 923 1/3.
Burnett is one of eight AL pitchers who threw at least 185 innings in each of the last four seasons.
Last season, Burnett gave up 177 fly balls, of which 29 went for home runs (two of his homers came on balls deemed to be line drives).
Burnett's rate of allowing a home run on 17 percent of his fly balls (about one of every six) was the highest in the majors among those who qualified for the ERA title.
Only three other pitchers—Jake Arrieta, Bronson Arroyo, and Chris Volstad, had a rate of 15 percent or higher.
Yankee Stadium rated among the most homer-friendly ballparks in baseball, but Burnett actually had a lower home runs per fly ball rate at home (16.0%) compared to on the road (19.0%) last season.
Burnett finished last season with a 5.15 ERA. Burnett's xFIP (a stat that attempts to estimate a pitcher's ERA based on strikeouts, walks, and fly balls allowed) was 3.86.
The gap of 1.29 between Burnett's ERA and xFIP (which stands for expected Fielding Independent Pitching) was the fourth-largest in the majors.
Burnett is going from a home ballpark in Yankee Stadium that statistically rates as the second-friendliest for home run hitters in the majors over the last three seasons to one that rates considerably less homer-friendly.
There have been 388 home runs hit at PNC Park since 2009, compared to 441 in Pirates road games. PNC Park's three-year Park Factor of 87 rates tied for ninth-lowest in the majors.
Scott Beaman also contributed to this post