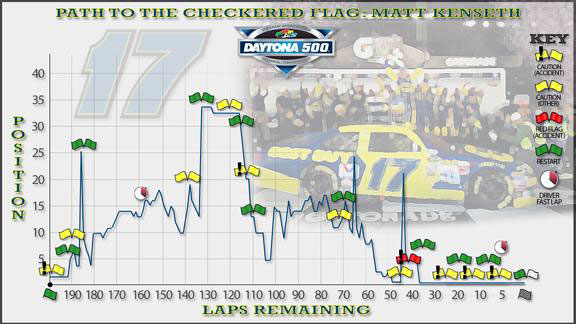 ESPN Stats & Information
After languishing near the back of the pack in the early laps, Matt Kenseth led the final 38 laps on the way to his second career Daytona 500 win.Matt Kenseth overcame overheating problems early in the race to win the Daytona 500 for the second time in the past four years. Here's a look at the road he took to Victory Lane.
Lap 2
Kurt Busch, Danica Patrick, Trevor Bayne and Jimmie Johnson are involved in a wreck in Turn 1. It's the earliest accident in the Great American Race since 1990, as there hadn't been a wreck before Lap 5 in the previous 22 Daytona 500s. It was Johnson's fifth accident in the past six 500s, the second-most among drivers over that span.
Lap 43
Kenseth turns a blistering lap of 44.861 seconds, which remains his fastest time until he tops it with a time of 44.746 with six laps to go.
Lap 81
Jeff Gordon's engine explodes and catches fire. With teammate Jimmie Johnson in the garage after completing only one lap, Hendrick Motorsports is having a 500 to forget. Gordon and Johnson combine to record 82 laps and only seven points.
Lap 92
In the 12 laps following Gordon's engine failure, Kenseth trims a whopping 55-second deficit to a 0.1650 one, moving from 32nd to fifth in the process. Kenseth takes advantage of Terry Labonte's caution on Lap 88 (spun by Marcos Ambrose), entering the pits in 10th place and leaving them in fifth.
Average Speed After Final Restart
Lap 142
Kenseth chases down leader Denny Hamlin and passes him three laps later. Running ninth on Lap 137, Kenseth charges through the field and takes the lead on Lap 146. Following a pit stop for David Stremme's blown engine (and a 2-hour, 5-minute red flag after Juan Pablo Montoya hit a jet-dryer truck under caution), Kenseth retakes the lead for good on Lap 165.
Lap 201
Kenseth holds off Dale Earnhardt Jr. and teammate Greg Biffle by hundredths of a second on the race's final restart to claim the checkered flag.