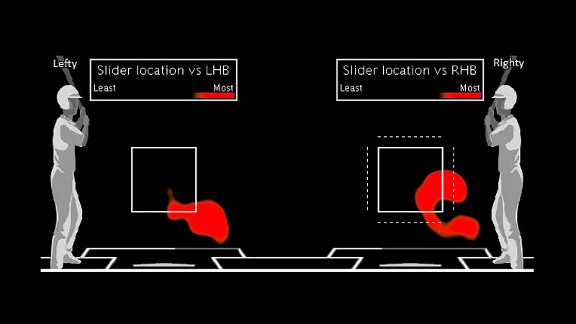 The primary location of sliders thrown by Andy Pettitte in 2010.
Click here to create your own Pettitte heat maps
Andy Pettitte, who last pitched for the New York Yankees in 2010, has decided to return to the team, signing a 1-year, $2.5 million minor league contract on Friday.
One of Pettitte's long-lasting legacies is his unsurpassed postseason record, capturing five World Series titles with the Yankees. He is the all-time winningest pitcher in major-league postseason history with 19 victories, and ranks first in starts and innings pitched.
Andy Pettitte
Yankee Ranks
Pettitte was also one of the most consistent pitchers in major-league history. He has posted a .500 or better record in each of his 16 seasons in the majors, tied for the third-most such seasons all-time.
According to the Elias Sports Bureau, his streak of 13 consecutive winning seasons to start a career is the third-longest, trailing only Hall of Famers Grover Cleveland Alexander (17) and Cy Young (15).
Pettitte had one of his finest seasons in pinstripes in 2010, posting a 3.28 ERA with a career-best 11-3 record over 21 starts. He held lefties to a .482 OPS, the second-best rate among major-league starters that season (min. 100 batters faced).
His off-speed pitches were key to his success in 2010. Opponents hit just .235 in at bats ending on off-speed pitches and missed on 32 percent of their swings, well above the league average rate of 29 percent.
Andy Pettitte Slider
2010 MLB Starter Ranks
Pettitte's ability to locate his slider down in the zone made that pitch an important weapon for him against both lefties and righties (see heat map above). Opponents chased 49 percent of the sliders he threw, the highest rate among MLB starters in 2010 (min. 300 pitches).
However, Pettitte was hit hard in 2010 when throwing fastballs and cutters, with opponents hitting .316 on at bats ending on such pitches, more than 25 points above the league average of .280.
Pettitte will turn 40 on June 15 and could join a select group of Yankee starters that have pitched successfully at that age. Only three players have thrown at least 125 innings in their age 40 season or older with the Yankees and posted an ERA below 4.00: Phil Niekro (3.09 in 1984), Roger Clemens (3.91 in 2003), and Randy Johnson (3.79 in 2005).