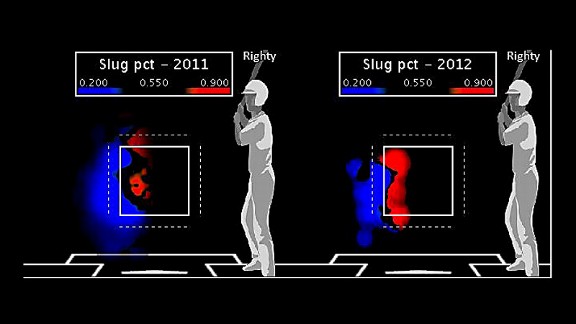 ESPN Stats & Information
Matt Kemp has doubled his slugging percentage against outside pitches since last season.After narrowly missing out on the Triple Crown last season, Matt Kemp is off to a fast start in 2012.
Through 13 games, Kemp is hitting .451 with seven home runs and 18 runs batted in. According to the Elias Sports Bureau, he is the third player since RBI became official in 1920 to reach each of those thresholds in his team's first 13 games. The others were Larry Walker for the Colorado Rockies in 1997 and Willie Mays for the San Francisco Giants in 1964.
Kemp has shown tremendous power to the opposite field in the early going, in large part because of how he is handling pitches on the outside part of the plate.
Matt Kemp vs Outside Pitches
As shown in the heat maps at the top of the article, Kemp's ability to drive pitches on the outer portion of the plate has markedly improved since last season. In 2011, he had six home runs in 207 at-bats that ended on outside pitches. Through the first two weeks this season, he has three home runs in 22 at-bats ending on such pitches.
This isn't the case of Kemp doing better against outside pitches as a function of doing better against everything. His numbers against inside pitches are slightly improved from last year, with his slugging percentage up from .672 to .727. Against outside pitches, his slugging percentage has more than doubled from .362 to .727.
Kemp hit his fifth opposite-field home run of the season in Thursday's win against the Milwaukee Brewers. Entering Thursday evening's games, Derek Jeter is the only other player in the majors with more than two opposite-field homers this year. Kemp hit eight home runs to the opposite field all last season.